We're just about ready to ship off to Barcelona and the leaks continue to leak. A couple devices we've been waiting for information on are from Samsung: the Samsung Galaxy S 2 (or Samsung Galaxy S II,) and the Samsung Galaxy Tab 2. We've got details now on both – the Galaxy S information coming from Korean news source Paran, the info on the Galaxy Tab 2 coming from SlashGear. Have a look and open up your pocketbooks because you're about to stock up.
First, the Samsung Galaxy 2 will be running Android 2.3 Gingerbread and will have a 1GHz dual-core processor blasting information into your face, but not before it gets through a lovely 4.3-inch display which is more than likely Samsung's brand new Super AMOLED Plus panel. As for connections, this handset has HSPA+ connectivity, works with Wifi a/b/g/n, and has Bluetooth 3.0. The whole phone will weight right around 116 grams and will be a tiny 8.49 millimeters thick.
Then, for the Samsung Galaxy Tab 2 is going to blast forth with a 10.1-inch screen with what we're pretty sure will be a TFT panel (as opposed to any kind of AMOLED type panel.) On the back is going to be an 8 megapixel camera with Full HD video recording. This tablet will have dual surround sound speakers. This tablet will be working with an NVIDIA dual-core Tegra processor instead of an Exynos or Qualcomm CPU. Inside this tablet, there's said to be 16GB of internal storage plus room for expansion via a microSD card slot.
Additionally, the Samsung Galaxy Tab 2 is said to not only have a bigger screen than the iPad, but a smaller bezel and will be weighing in at around 200 grams lighter than the Apple tablet. Can Samsung beat the Motorola XOOM to the punch with Android 3.0 Honeycomb? That's what we hear they're trying to do with this, trying with all their might and fury. If our poll over on SlashGear has anything to say about it (it's been running strong for about 2 days now,) Samsung doesn't stand a chance. What do you think?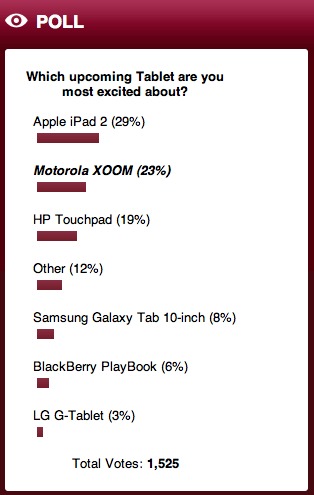 Furthermore, I've got to remind you again that we're going to be in Barcelona this whole next week, starting early tomorrow, bringing you every bit of Mobile World Congress 2011 news we can muster! Take a peek at our [MWC 2011] portal, keep it bookmarked, have it added to your Google Reader, or heck just look at every single post on Android Community if you have to – just get into it!
[via SlashGear]