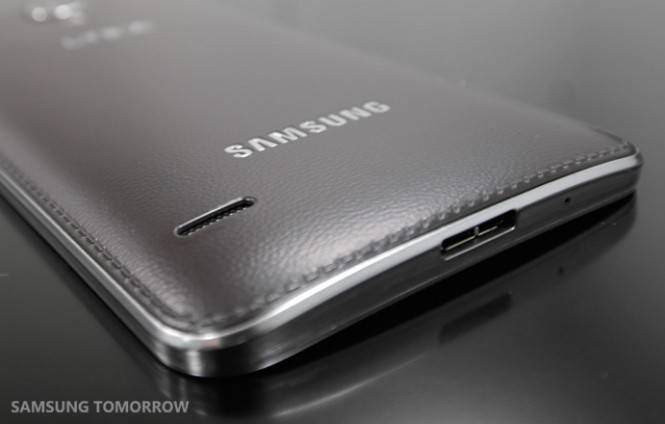 Following Samsung's revelation last month that it would soon be introducing a curved display smartphone and a tip that such a handset would be named the Samsung GALAXY Round, the Korean maker has officially debuted the device. With the GALAXY Round comes a gently curved smartphone equipped with functionality to take advantage of the shape, as well as some other features.
The Samsung GALAXY Round has a Full HD 5.7-inch Super AMOLED display, as well as a body that measures in at a svelte 7.9mm thickness and a weight of 154 grams. With the curves comes what the handset maker describes as a "hand grip" feel, something that is used in conjunction with a handful of special functionality.
The Roll Effect, which can be viewed in the video above, takes advantage of the curved shape by fading the screen in and out as the handset is tipped, revealing information like battery life, date and time, and missed calls and text messages. Similar to that is a Gravity Effect, which allows for "visual interaction" with the screen.
A couple other functions include one called Bounce UX, which allows the music player to be controlled by moving the device. Rolling the smartphone to the left while music is playing skips the song to the previous track, while rolling it right skips to the next song. Such functionality is also provided with pictures and video in a feature called Side Mirror.
Beyond that, the controls most used can be moved towards one side of the display, making it easier for one-handed use. Beyond that is Multi Window, which allows for multiple apps to be used at once. No information about hardware specifications have been dropped yet, but the handset is arriving first in Korea in Luxury Brown, with more colors promised in the future.
VIA: SlashGear