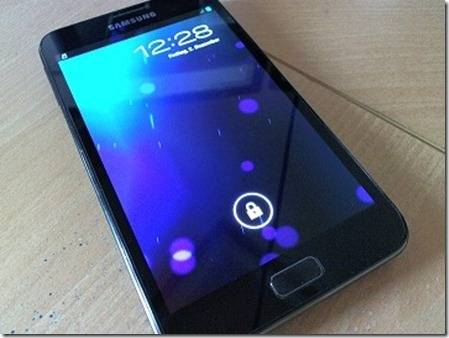 Probably one of the most impressive devices as of late is the Samsung Galaxy Note. While it's still currently not available in the US or many other parts of the world it still has seen wide adoption with over 1 million sales, and the development community is flourishing. Below we have some Android 4.0 Ice Cream Sandwich on the 5.3″ phone — tablet — cutting board.
Below is a video showing the progress of Android 4.0 Ice Cream Sandwich and CyanogenMod 9 on the Galaxy Note. Obviously this is still very much in the early stages but as you can see in the video performance is quite stellar already.
Having Ice Cream Sandwich on that gorgeous 5.3″ AMOLED display sure sounds nice although I'm not sure I'd use that thing as a phone or not still. The Galaxy Nexus seems perfect for me (and I love it). According to the awesome developer at XDA, Maui this is still heavily under development and things such as the camera, bluetooth, some hardware accel and more are all not working just yet.
Galaxy Note CM9 ICS

WiFi, data and calling, the s-pen (stylus) and more are all working just great and enough to make this almost a daily driver unless you need a highly accurate battery reading or bluetooth. Accessing the internal storage with MTP is still having issues and you'll need to push things with ADB. If you are wondering what that is then this project isn't for you. Being in an early beta stage it's recommended that you know what you are doing if you decide to flash and give this ROM a try on your own Galaxy Note. Give it a try at your own risk and make sure to ask any questions before getting started. All the information, links, and download are available at the link below.
[device id=1438]