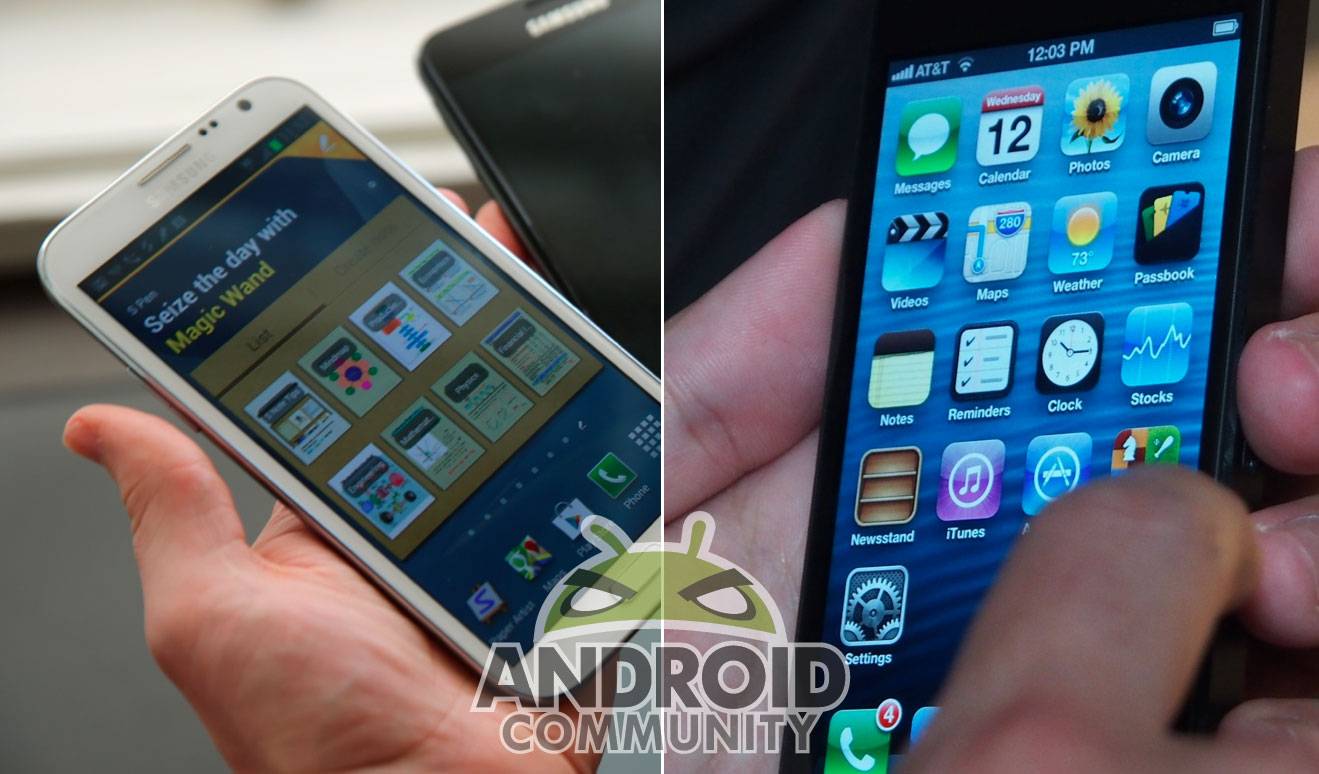 Today Apple unveiled their newly redesigned iPhone 5 to the world and the first thing that came to my mind was the Galaxy Note II. Obviously the Galaxy S III is a great device to compare it to as well, but the Galaxy Note II and the iPhone 5 are the latest and greatest from both companies. Lets take a look at the two devices below.
Where to start? We could ramble on about software, hardware, specs, size, and Android vs Apple for days and days but instead we just want to share the details on both and let you guys decide. Apple has put all their technology into one polished and now slightly larger iPhone 5 — complete with a 4-inch Retina display. Samsung on the other hand has taken their tablet and smartphone technology and blend them into one with their new 5.5-inch HD Super AMOLED display packing Galaxy Note II.
In this crazy world of Android smartphones is 5.5-inches too big? Or is 4-inches simply too small? This marks the first iPhone to have the larger display, so that could very well persuade many folks that direction that didn't want to live with a smaller screen. Also, now that Android has so many 4.5+ display sizes that same 4-inch screen could still be considered too small for many. We'll let you decide.
As far as specs the iPhone 5 comes with that 4-inch Retina Display, their A6 (dual-core) processor, most likely 1GB of RAM, and an improved 8 megapixel camera with panorama features and 1080p video. Then around front you have a 720p HD Facetime front camera as well. This time around we finally have 4G LTE too, which is a first for the iPhone. As far as internal storage you get the usual wide array of 16, 32, and 64GB storage options — and obviously no micro-SD support. Running on iOS 6 and having their much hyped Siri, as well as the ever growing App Store.
For the Galaxy Note II however, everything is bigger and faster. We have a massive 5.5-inch 1280 x 720p HD Super AMOLED display, a powerful 1.6 GHz quad-core processor, 2GB of RAM, 32 and 64GB of storage options, a similar 8 megapixel camera on the rear with 2 megapixel front and more. Then obviously we have 4G LTE since Android has been enjoying that for nearly two years now. Samsung however runs on Android 4.1 Jelly Bean — the absolute latest and greatest OS from Google. It has Google Now and Samsung S-Voice for Siri-like features (or better) and the S-Pen stylus for absolute precision and content creation. It's safe to say you can do much more with the Galaxy Note II than the iPhone, but then who will use that stylus?
We don't want to stir up the trolls, but surely there's already more than a few roaming the interwebs this evening. Without getting down to all the nitty gritty details and specifics what device are you more impressed with? Do you like where Samsung is going with larger screens and content creation, or Apple with their sticking to what works attitude?
For now check out a quick look at our Galaxy Note II hands-on video, and we'll add one of the iPhone 5 here shortly. We'd love to hear your thoughts regarding both!
[device id=3362]