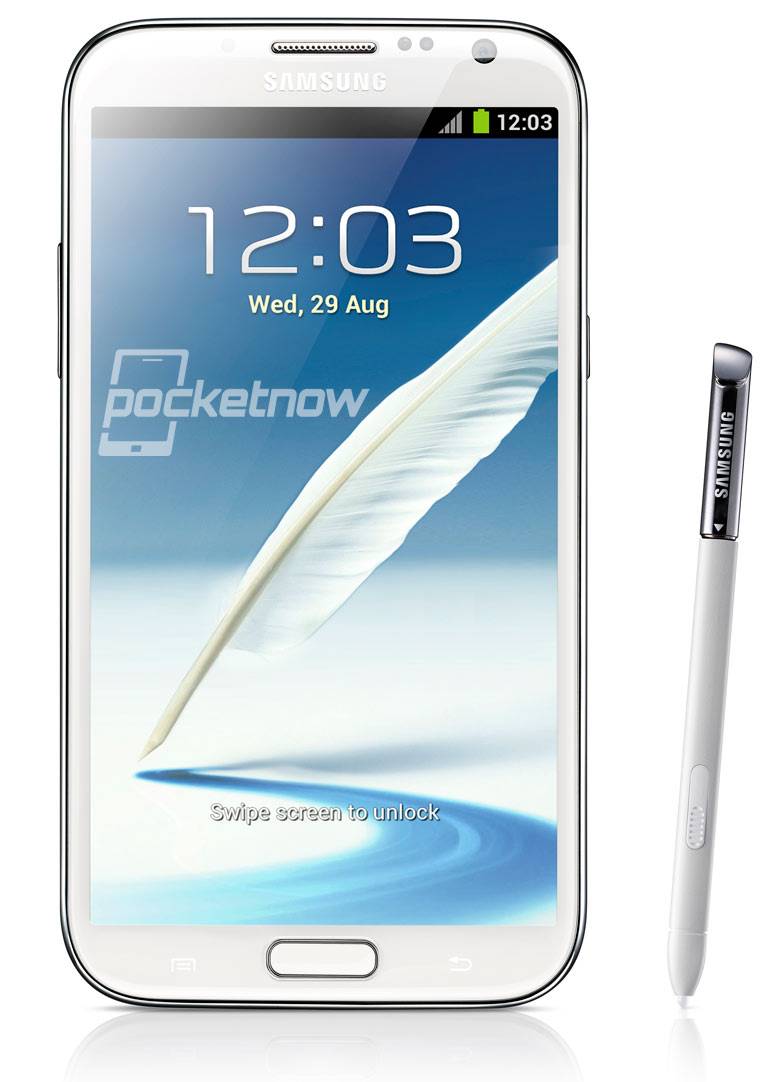 It looks like Samsung's brand new and exciting flagship Galaxy Note II phablet smartphone has been leaked hours before their official announcement. Uh Oh! The new Galaxy Note II with its massive 5.5-inch display and quad-core processor (according to rumors) has now all been confirmed in some leaks thanks to those sneaky guys at PocketNow.
Apparently they have received a few official press photos and full details on Samsung's upcoming announcement — which is just hours away mind you. The Galaxy Note II will be unveiled during Samsung Unpacked later today but we have the full details right now. This phone sure looks great, and they've managed to keep the overall size down too. Here's the details.
Just like recent rumors the Galaxy Note II will come complete with a 5.5-inch HD Super AMOLED display, only this time it won't be 1280 x 800. Instead it will actually be lower than the original, coming in at 1280 x 720p with a true 16:9 aspect ratio. This means it will be a little larger and not quite as wide as before which should make most users happy. The Samsung Exynos quad-core processor isn't completely confirmed, but the leak states it will rock a 1.6 GHz quad-core so Samsung's own is the likely choice.
Other specs include 2GB of RAM, 8 megapixel rear camera, 1.9 front camera for self portraits, and a massive 3,100 mAh battery. Yes even bigger than the original while having a more efficient screen, more efficient but powerful processor, and a larger screen. Yes please! We are hearing 16, 32, and 64GB storage options. Coming in Marble White or the newly announced Titanium Grey color options — but we have a feeling they'll offer it in Pebble Blue too.
The leakster confirms Android 4.1 Jelly Bean out of the box, and an early October launch in Europe with the quad-core, followed by 4G LTE models in the US shortly. Here's to hoping it comes to Verizon Wireless. The official press event and Samsung Unpacked is coming up shortly to stay tuned as we'll have PLENTY of video and hands-on of the all new Galaxy Note II ourselves. Stay tuned!
[device id=3362]