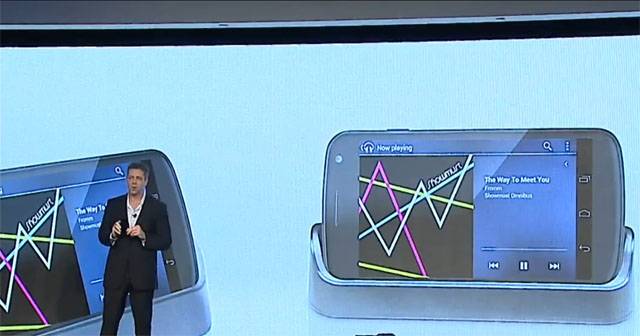 We already know the new Samsung Galaxy Nexus is coming this November and with those 3 dock connectors on the side we all had a pretty good idea some fancy docks were on their way too. Today they've showed up online at a few retailers as "official Samsung accessories" although sadly we don't get any pictures to do us justice or make us drool — yet. I have a feeling some pretty awesome car and desktop multimedia docks are in the works from Samsung and Google.
I guess we can't really say these have "appeared" online but they've made an entrance into our minds and we'll be on the lookout for full details and pictures as soon as they're available. The Samsung Galaxy Nexus multimedia dock will be $69 and is listed as shipping November 21st, then the car dock and mount will be $50 according to theaccessoryking.com
One little thing I found interesting is the image at the top was pulled right from the official Google live feed of the Android 4.0 Ice Cream Sandwich announcement, but it appears they have things a bit backwards because the 3 dock connectors are actually on the same side as the power button and not on the other side as the image above suggests, see our picture below and you'll know what I mean. Either their dock is magical, or someone made a boo-boo. I'm not concerned with that and would just like to see these docks already.
While this isn't technically clarification that we will be seeing docks and accessories, most likely they are on their way and will be launched at the same time. Why would they go through the trouble of adding the 3 dock pins otherwise? That and these "official accessories" have product numbers that closely match that of other Samsung parts. Take this as a grain of salt but it appears they are coming, and theaccessorykings might have jumped the gun with their listing. We'll update once we see or hear more.
In case you missed it check out all of our Galaxy Nexus and Ice Cream Sandwich coverage, and then enjoy the hands-on below.
Galaxy Nexus hands-on
[vms 55018e2a459517fdb40e]
[device id=1740]
[via Wireless Goodness]