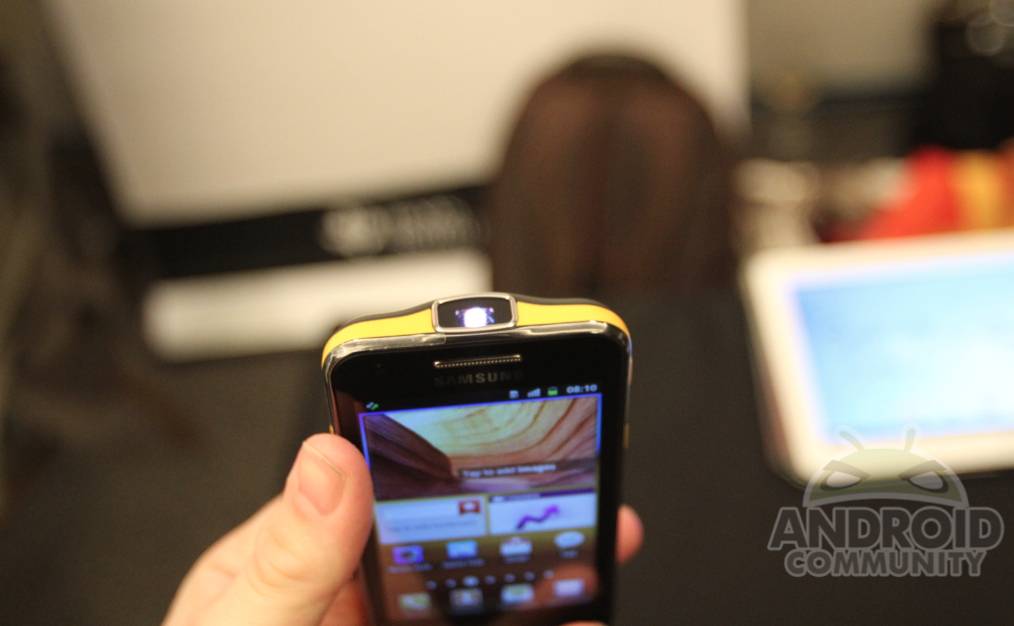 Earlier we got a somewhat subdued look at the Samsung Galaxy Beam, it was from a respectable distance – Sammy wanted to make sure and display the smartphone-pico projector in the best possible light. (Zing.) But later in this first day of Mobile World Congress we were able to get our hands on the device itself, and its unique properties certainly deserve another look. Can you find a reason to want an Android phone that's also a projector, and kinda looks like a walkie-talkie? Read on, and decide for yourself.
The star of the show is recessed into the top of the phone: a 15-lumen projector and bulb that shoots a 640×480 image up to 50 inches diagonally. That's a big image and lot much resolution to make it with, but at more immediate sizes (20-30 inches) the disparity isn't quiet as noticeable. 15 lumens isn't ideal for a conference room presentation, but for quickly sharing photos or videos it should be enough for most indoor situations. The lamp is rated for 20,000 hours of use – so if you were to run it 24/7 for every day of the average two-year contract, it would still have a few months left in it.
The rest of the hardware is rather pedestrian, evoking the original Galaxy S. A 4.0-inch AMOLED screen has 800×480 resolution, strangely higher than the projector itself. The rear camera is 5MP while the phone makes due with a VGA front-facing cam. For cramming a projector and a 2,000mAh battery inside the case, it's a surprisingly slim at 12,55 millimeters – we'll leave you to judge the choice of rescue raft yellow for the body accents.
It's hard to think of a situation where having a tiny and relatively weak projector would be better than just passing the phone around, but it there could be a few. Some quick YouTube viewing at a party, displaying baby photos for those family member who are rich in years – it's at least as valid an approach as connecting to an HDMI dock. We'll see how the Galaxy Beam does when it enters the court of public opinion. Until then, check out the rest of our coverage of Mobile World Congress.