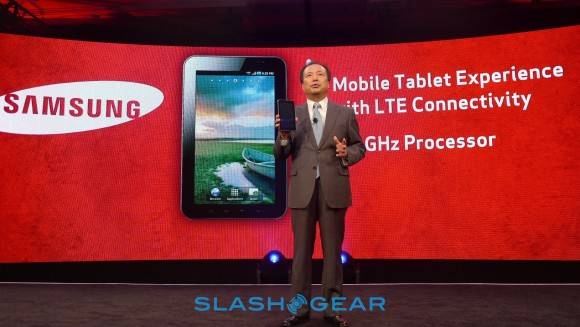 There had been talk of Samsung bringing a 4G LTE-enabled device to Verizon before too long, and today at the Verizon press conference at the Consumer Electronics Show, Samsung took some time to announce not only that rumored device, but also a Galaxy Tab that will be able to access Verizon's faster network.
The smartphone doesn't have a name quite yet, it seems. However, Samsung isn't holding back on the feature set. The device will launch with Android 2.2, and will have a 1GHz processor under the hood. Around the back, you'll find an 8MP camera, with a 1.3MP variation on the front for video chats. The device will also boast a 4.3-inch Super AMOLED Plus capacitive touchscreen display.
The 4G-enabled Galaxy Tab may look the same as the previous version which has been available on Verizon for a little while now, but there's been a few tweaks made for the 4G-equipped version. The device will now boast Android 2.2, and have a 5MP camera on the back with a 1.3MP camera on the front for voice chat. Inside, there's a 1.2GHz Hummingbird processor.
Release date is some time soon, but prices haven't been finalized yet. Stay tuned for more images and video.
[via SlashGear]