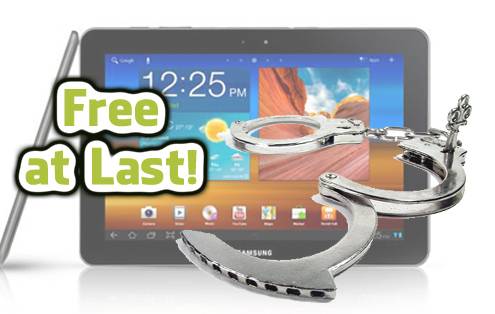 What a great feat for Samsung today! As you may have heard, Samsung has been in quite the legal battle with Apple Inc. in recent months over whether their Galaxy Tab 10.1 could rest on Australian shelves. Court rulings had prohibited sale of the device with a temporary ban until now.
Australians rejoice, for you'll be able to buy as many Samsung products as you want – and just in time for the holidays too. Hopefully, Samsung lawyers can cook up some more magic in the case against blocked tablet sales in Germany. Either way, hard-core Android followers will surely get there hands on one – even if they're required to hop a train towards nearby France to pick it up.
It's hard to even think of the iPad and Galaxy Tab lines as similar. With so many divergent characteristics in the actual OS, you would have thought to even consider banning one would require never turning on the device. The iPad has a completely icon-dependant homescreen where the Galaxy Tab 10.1 layout is showered with many different widgets. Both sport completely different lockscreens – the differences are practically endless. It seems Apple wants to make sure its competitors refrain from designing anything that comes close to their tablet's dimensions – well that's just not going to happen. I've got a nice block of wood about the size of an iPad, maybe they'll come for me too.
[via Phandroid]