If you are an Android power user – you like to tweak, gain root access, install custom ROMs – and you use a Samsung device, one of the most tedious tasks is to download official Samsung firmware, because all of the third party sources (like SamMobile.com and others) all have slow download speeds. SamFirm is a tool that takes care of that.
The SamFirm tool was created by XDA member "zxz0O0", as a solution to this problem. The tool queries Samsung's official servers, so there is no fear here of getting malicious code. It looks to be a simple tool, but as with all simple things, there is a learning curve that needs to be traversed. The inputs need to be quite exact so that the tool will have all the data it needs.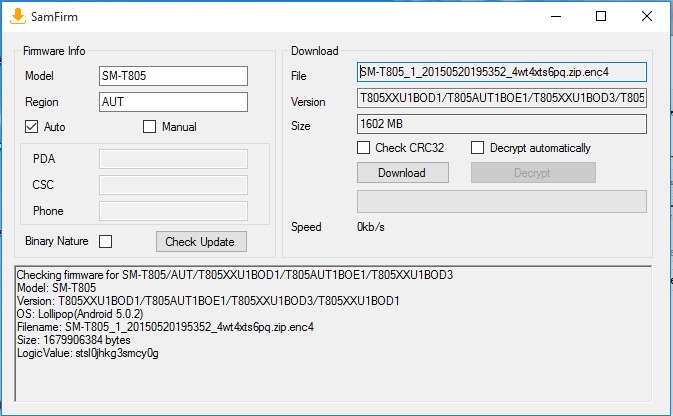 You will need the official model number (in all caps, apparently), the region of your device, plus other specific information that you can only get by connecting your device to Samsung Kies or any other tool that provides you with information. Your PC also needs to have .NET Framework 3.5, Microsoft Visual C++ 2008 Redistributable Package and Microsoft Visual C++ 2010 Redistributable Package installed.
So if you are a bit on the techy side, this tool might just be a godsend for you, as download speeds reach around 4MBps – pretty fast, actually. Never have to wait for hours for official Samsung firmware again. Check out the source link below for the download links. Make sure you download the latest version.
SOURCE: XDA