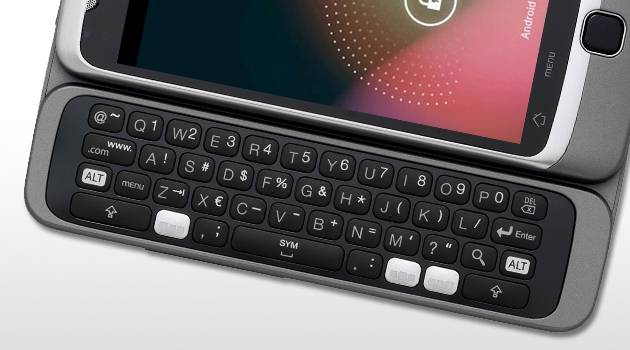 Recently we've been seeing a bit of news regarding some upcoming HTC devices. Reports of quad-core Tegra 3 devices with AT&T 4G LTE, and even a few tablets have been spotted. Today however new speculation has arrived mentioning that T-Mobile and HTC are teaming up yet again (for the third time) and will be releasing an HTC G3. The original G1 days — good ol times with that clunky keyboard and updating to Cupcake.
The original Google device, for those that sadly don't know, was the T-Mobile HTC G1. The device was released in October, and now we are seeing signs that a G3 QWERTY keyboard equipped smartphone might arrive in Q3 this year possibly around September. Or even the same October date as the original. According to TmoNews, a device codenamed the HTC Era 42 will be headed to T-Mobile this fall, and the specs and rumors all sound like an HTC One branded device only with a slide-out QWERTY keyboard — but will keep the T-Mobile G3 branding.
We can expect a completely stock version of Android, most likely Android 4.1 Jelly Bean, and it should rival if not beat the current crop of HTC One phones. According to multiple sources the original HTC G1 was codenamed the Era in some countries, and even the launch date matches up with the same time-frame as the G1 and G2. Obviously we don't have any real hard evidence at this point. We're hearing that a few different sources have been told the device is indeed in the works.
We know a few diehard Android fans would love a stock vanilla Android device with a hardware keyboard — so this could get interesting. Maybe the HTC G3 will rock Qualcomm's new quad-core S4 Pro and be complete as T-Mobile's first 4G LTE device. That I'd buy! More details and speculation can be found at the source link below.
[via AndroidandMe]