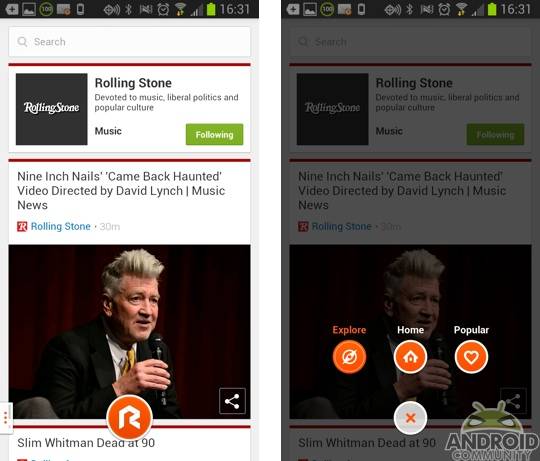 Rockmelt has officially launched for Android and while this had previously been available for iOS users, it was made clear that this release is "not merely a port." In fact, the Rockmelt Blog tells the story about how the whole company moved over to Android so they "could all live the experience." That being said, while this is not an iOS port, the Rockmelt app does have a familiar feature set.
For those not familiar with Rockmelt, this app provides a relatively easy way for the user to discover viral and newsworthy items. Some of the key features include smooth scrolling through and endless stream of content, the ability to add any site you want, an ad-free reading experience and simple sharing to the social network of your choosing.
The Rockmelt app also has the reaction buttons that will allow the user to share what they are thinking. Otherwise, a tap of the "R" button will bring up an Explore and Popular browsing option as well as the ability to quickly navigate home. Users also have a "Kept Items" section to store favorites. And keeping those favorites is as easy as long pressing a title.
Anyway, upon downloading and installing the Rockmelt app you first create an account or login using an existing social site such as Facebook or Twitter. From this point you choose five (or more) categories that will be used to populate your stream. The app promises to put the "best of the web, news and blogs at your fingertips" and well, while your opinion of the best may vary, we can say that the Rockmelt app does have ease of use going for it.
Rockmelt for Android is currently available in the Google Play Store and sitting at version 1.0.0.3. The app is free to download, free to use and has support for devices running Android 4.0 or later. Or more specifically, the app supports Ice Cream Sandwich or later and has been optimized for 4-inch phones as well as 7 and 10-inch tablets.
SOURCE: Rockmelt Blog