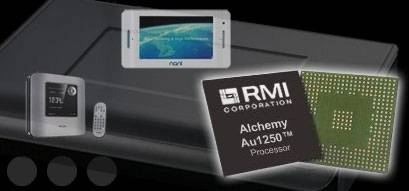 Computex is in full swing this week in Taipei, Taiwan and RMI Corporation has unveiled a new Android reference design at the show. The reference design is a complete Android cupcake version 1.5 design for mobile connected devices.
The Android solution being offered by RMI uses the firms Alchemy Processor family and is a complete turnkey solution built in partnership with Embedded Alley. Embedded Alley is a provider of Linux and Android solutions.
The reference design is a powerful open platform aimed at MIDs, Netbooks, AVN, home media players, PMPs, and PNDs. The design uses Android v1.5 with libraries and Dalvik VM optimized for MIPS.
"By bringing the Alchemy Processor to the market with Android capabilities gives us an additional advantage for success with MIDs and connected media devices," said Mike Wodopian, vice president and general manager, RMI. "The power-optimization and the high-performance processing offered opens up a variety of applications and capabilities that our customers are demanding."
[via RMI Corp]