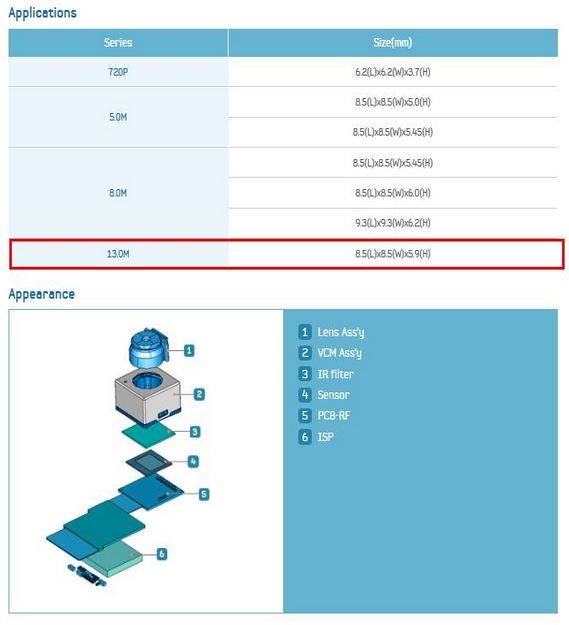 Now that the Samsung Galaxy S III has enjoyed a few months in the spotlight, it's time to start in on the Galaxy S IV rumors. We already got the rumor mill churning with the claim that Samsung would reveal the Galaxy S IV at MWC 2013, but today it's all about the camera baby. According to Korean site Newstomato (via Samsung-Updates), a 13-megapixel camera module has been spotted online, and it's headed directly for the Galaxy S IV.
The claim that the Galaxy S IV will house a 13-megapixel shooter isn't much of a shocker. After all, it was widely expected that the Galaxy S III and the Galaxy Note II would feature a 13MP camera, but that ultimately didn't happen. Instead, the cameras on both are 8-megapixels, so we're long overdue for a Galaxy-branded device with an 13-megapixel camera.
According to the reports, this bad boy will be able to take pictures in 4208×3120 resolution and comes it at 8.5×8.5×5.9mm in size. While it does make sense that Samsung would want to significiantly increase the quality of the camera with the next Galaxy S device, it's probably a good idea to remain skeptical until we get some actual details from the company. Remember, Samsung won't reveal the Galaxy S IV for a while yet, so getting excited about the phone's camera this early on could very well lead to disappointment.
Still, we can't help but get a little excited by the thought of a 13-megapixel camera in the Galaxy S IV. 20 million Galaxy S III sales in 100 days pretty much guarantee that we'll see the S IV eventually, so we'll be finding out if this legitimate soon enough. Keep it tuned here to Android Community for more details!