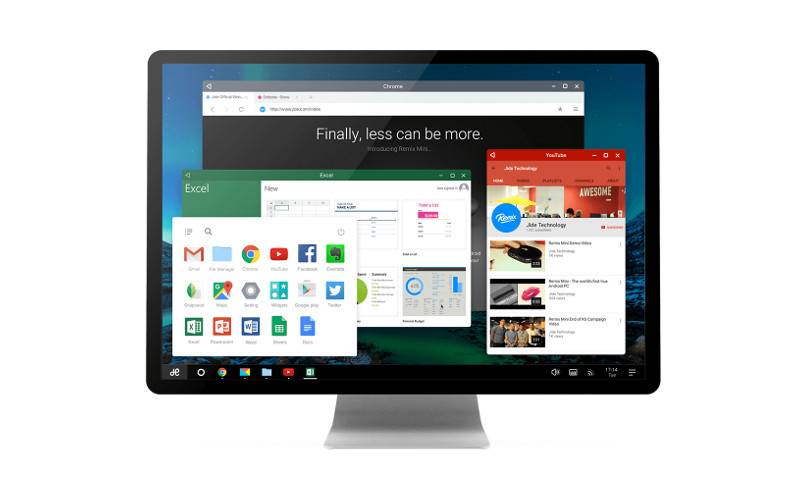 Jide has come a long way from an unknown Chinese startup to perhaps the champion of bringing Android to more than just smartphones and tablets. To be specific, to PC-like hardware at first and now, to actual PCs themselves. Jide released the alpha version of Remix OS for PCs last month, completely for free. Gathering feedback from adventurous users, the company is announcing at MWC 2016 the next major stage, a beta version that brings not only fixes for over 50 major bugs but also critical new features that will help bring Remix OS to more devices.
When Remix OS for PC first launched in Alpha, it had very steep hardware requirements. At first, it only supported legacy BIOS booting and, though that has since then been addressed, still only runs on 64-bit hardware. But to truly spread a productivity-oriented Android, Jide had to do some work to make it compatible with as many hardware combinations as possible.
The beta version of Remix OS for PC officially adds UEFI support. But more than that, it also adds support for 32-bit PCs, which would expand its reach to even older hardware as well as 32-bit Intel mobile chips. And it gets even better. Remix OS now features a new installer, right inside the running live environment, that will let you setup a dual boot scheme, allowing users to install Remix OS for PC directly to a hard drive while keeping, for example, Windows, intact. Plus, OTA updates now also work, removing the need to download a new image every time an update comes out.
There are still a few pain points to be addressed, however. In particular, unlike the version of Remix running on the Remix Ultraportable Tablet and the Remix Mini, Remix for PCs doesn't have Google Play Store pre-installed. That won't be a permanent thing, however, as Jide is still waiting for certification from Google. In the meantime, users are free to sideload Google Play Services just like on any custom Android ROM.
Jide is hardly the first to try to bring Android to PCs and it isn't claiming that either. In fact, it is quite proud of its collaboration with the Android-x86 project to make this particular spin possible. But while Android-x86 is mostly content with a plain Android user experience, Jide truly remixes Android to make it more suitable for a desktop or laptop scenario. To some extent, Remix OS is in a position to address many of the software criticisms levied on the Pixel C, though, of course, Google will never let its vanilla Android experience be customized to that extent.
Remix OS for PC Beta will be available for download, again for free, starting March 1.