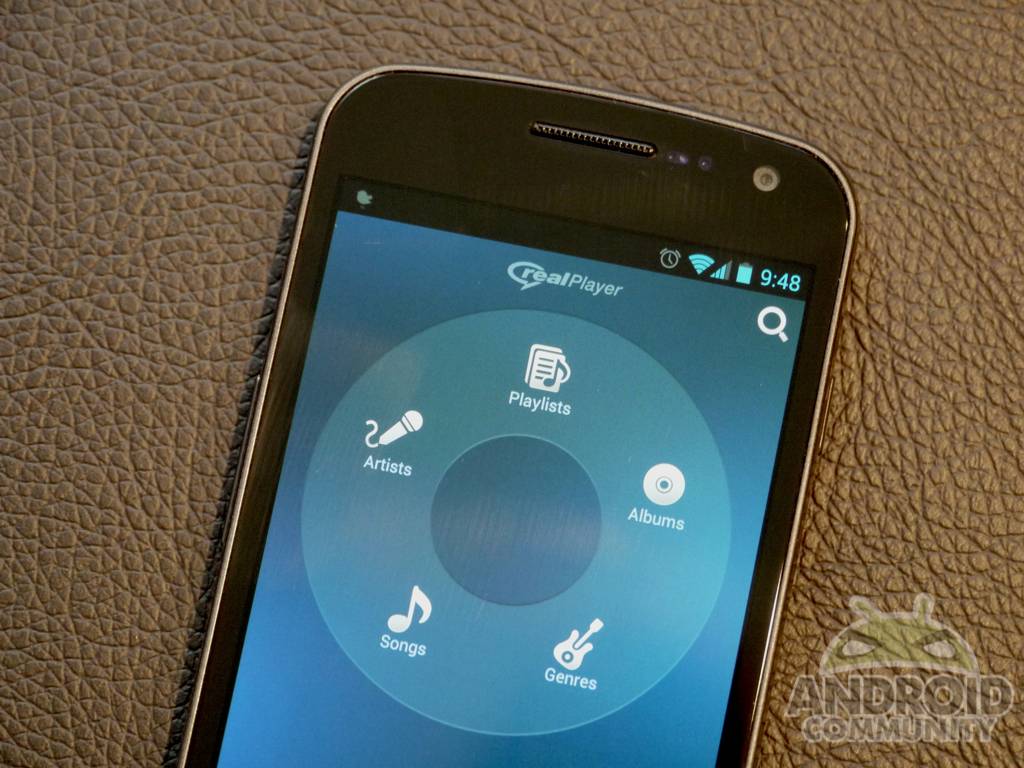 The folks from RealNetworks have finally launched their popular and widely known RealPlayer app for Android. Being available for some time in a beta demo, today they've officially launched RealPlayer v1.0 and it's the ultimate multimedia app. Whether you want to stream music, watch movies, or look through photo albums — RealPlayer does it all.
RealPlayer for Android is essentially an "all-in-one" media solution, and works rather well especially considering it's a free download. The UI is extremely simple to understand, although some headers could use a little cleaning up. I was hoping for something more in line with Android 4.0+ interface wise, but certainly have enjoyed this simple and easy to use solution.
On first boot you'll have to wait while it searches for content, but after you'll be ready to go in seconds. Their main home screen is dead simple as you see above, and gives you access to everything in one convenient place. No additional apps or even menus are needed — it's all right at the start. Sadly they don't offer much when it comes to settings, options, and customization. While there is metadata and equalizer support, that is tucked away behind a premium $4.99 in-app purchase. Here's what to expect with the free, and paid versions.
RealPlayer Features – available with the free RealPlayer app:
• Music, videos and photos all in one place
• Available in nine languages
• Optimized graphics for high-res devices
• Playlists
• lastFM scrobbling
• Voice commands for search
• Control playback when phone is locked
• Sharing on popular social media sites
• Move application to SD card
• Set your favorite song as a ringtone
• Headphones controls
• Auto bookmarking of videos
• Home screen widgets to control media
• Access any file format your device supports

Additional Features – available through an in-app upgrade:
• Graphic equalizer with ability to save custom settings
• Metadata discovery using the Gracenote database
• Manual metadata editing
• Cross fading for a seamless music experience
• RealAudio and RealVideo (rmvb) support
• No advertisements
In general RealPlayer is geared towards audio and video, with photos just being a bonus. Music playback and controls were simple, as they should be, and album artwork was present for most artists. They've added a nice widget for those who like that option, and I've been using that all weekend. They've also added music controls to the lockscreen — sort of. If the screen locks when you unlock it you're instantly brought to an unlock screen for RealPlayer too. Two unlock screens in a row is odd, but you can quickly change songs and then go back about your business.
My only complaint for the most part would have to be the photo viewer. It's pretty generic and doesn't even offer pinch-to-zoom. It is nice to be included, but would be fine without. As you see above in the premium suite screenshot, that is where the good features come. Their real selling point is .RAM and .RM support — which sadly requires users to buy the premium version for $4.99. All in all RealPlayer as a music and video player is another awesome option for Android. Here's what the SVP of Real Networks had to say:
"This is the media player that people want. It delivers on what RealNetworks does best: helping people simplify, connect to, and enjoy their digital media. We drew on the rich heritage of the RealPlayer media platform, whic has close to 500 million users and one of the most recognized brands in media players worldwide, to make the incresingly complex world of mobile media easy to use and manage." – Scott Uomoto
RealPlayer has been one of the most popular PC programs in its class for years and years, and the same continues strong here on Android. Their beta player alone has nearly 11 million downloads, and now with the official RealPlayer app that will only continue to grow. Those looking for an awesome yet simple all-in-one media player for Android, give RealPlayer a try today at the link below.