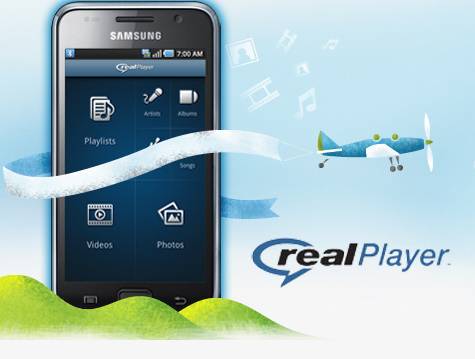 RealPlayer was released for Android all the way back in June. Being downloaded over a million times, developers have received a lot of feedback which they used to further improve the application.
The application has been entirely re-designed based on this user feedback and the updated version has just hit the Android Market. The update includes an overhauled user interface that has been designed to make accessing and enjoying media more seamless.
Specifically, the update includes:
-A redesigned home screen
-A widget allowing playback from the home screen
-Enhanced graphics
-A feature for videos and song removal
-An improved way to select directories for music, videos and photos
-Landscape mode for music playback
-Music playback by directory folder
-A quick way to hide video status bar
-A selection for video aspect ratio
-Removal of the roulette wheel
-Support for music playlists playback 
The RealNetworks team is again open to suggestions to further improve their already popular application. You can check out the update now in the Android Market.
QR Code:

[Via Real Networks]