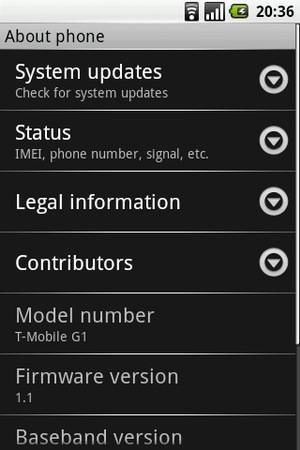 Reports are trickling in that some users on the T-Mobile G1 official forums have received an OTA update to their phones, bringing the software version to RC-33. Confirmation has been released by a T-Mobile employee on the same forums. Check after the jump for more details.
This release is not, unfortunately, the heralded 'Cupcake' branch that so many G1 users long for. This release apparently aims at nailing down some known (yet unspecified) bugs in the system, as well as adds some small, useful features. Among the upgrades are the ability to save a picture or file by long pressing that item and the Google Voice Search feature seen recently released for the iPhone. Also reportedly included is the official ability to force the system into checking for a more recent update.
T-Mobile has said that only a small number of updates have gone out so far, as a test release. The full update should reach everyone by February 15th. There is no stated pattern of the update trickling down to users, and is seemingly at random. New G1 activations are warned that they may receive the update up to 3 days after their data plan is activated. Chime in with comments if you've received your update!