It's not just your smartphones or tablets that need power banks or external batteries when you're traveling. Sometimes, you also need to juice up your laptop, especially if you're using it to play games or watch movies (okay, maybe also to work). Razer, maker of high-performance gaming laptops like the Blade Stealth, have now released a Power Bank so you'll be able to charge your laptop and other devices in case of an emergency or when you're bored out of your mind and you need digital entertainment.
The Razer Power Bank has a large 12,800 mAh battery capacity and is optimized to power the 12.5-inch Blade Stealth laptop and extend its battery life to more than 15 hours. But it can also work with other laptops, as long as it's USB-C powered. It has dual USB-A ports so you can charge up to three mobile devices at the same time. The fast charge feature can actually give 6 hours of battery life for the Blade Stealth but you just need 2 hours charging time. So imagine how fast it can power your phone.
It has Intelligent Device Detection so it can, well, detect what device you've plugged into it and no unneeded power is consumed. And since it uses Qualcomm Quick Charge 3.0, it charges four times faster than the conventional charging, as long as it's a compatible mobile device. It is a bit heavier and chunkier than the usual powerbanks, but that's understandable given its capacity.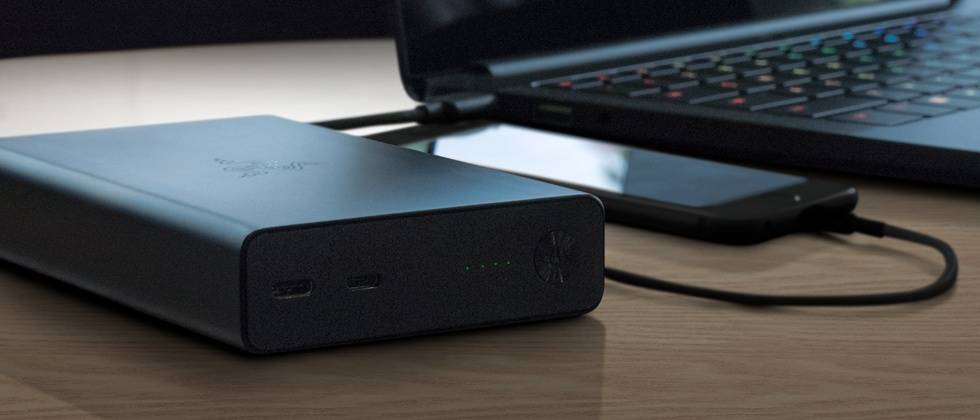 It will be available in March through Razer's online store in the US, Canada, UK, Germany, and France It will cost US$149.99 / €169.99 / £144.99 and is available only in plain, ole black.
SOURCE: Razer