Qualcomm's next generation system-on-a-chip (SoC) is the Snapdragon 845, and you're probably wondering how this new chipset will hold up against the current Qualcomm flagship, the Snapdragon 835. The TL;DR answer is that the SD845 brings just the right amount of performance increase as you would expect, and it's totally what Qualcomm says you should expect from the SD845. But for us, the question is no longer the incremental performance increase which Qualcomm is sure to deliver year-on-year. The more pertinent question is, shouldn't Qualcomm be delivering more?
But hey, you came here for benchmarks, and those numbers are brought to you by an XDA team that was invited to run benchmarks on a Qualcomm reference design for the SD845. The benchmark numbers were then compared to the SD835 running on the OnePlus 5 and the SD821 running on the OnePlus 3T. The SD845's specs are impressive – they're now running eight Kryo 385 cores, which are actually four Cortex-A75 performance cores paired with four Cortex-A55 efficiency cores. The clock speed of the A75 cores is 2.8GHz, up from last year's 2.4GHz on the SD835.
The benchmarks used were Geekbench 4, AnTuTu, PCMark, GFXBench 4.0, and 3DMark, among others. The performance numbers and comparisons say the same thing – the SD845 will perform 25 to 30 percent faster and better than the SD835. If you want to check out the numbers for yourself, click on the source link below. The analysis of the benchmarks are quite in-depth and should be good for Android geeks like you and me.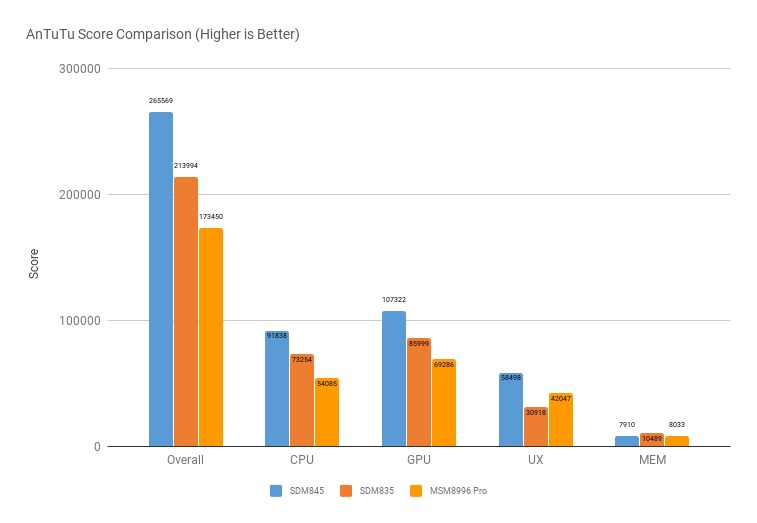 The final question remains – is Qualcomm's strategy of giving a 30 percent performance improvement year-on-year going to be beneficial for customers in the long run? Huawei has already integrated a neural processor on the Mate 10, signaling to the rest of the manufacturers that the Chinese manufacturer is ready to play in the artificial intelligence field, while Qualcomm has yet to send out signals that it is willing to add AI and machine learning capabilities to its Snapdragon line of chipsets. Let us know what you think.
SOURCE: XDA