While smartphones are seemingly getting larger, smartphone manufacturers and component makers are always on a quest to make their innards even smaller or thinner. The purpose isn't exactly to shrink smartphones, because we've passed a point of no return, but to cram as many other components inside. That is part of the appeal of the Snapdragon 835, Qualcomm's smallest mobile application processor yet. That, however, is probably also the smallest part of its feature set, which shouts performance and power in contrast to its dwarfed size.
Of course, size does matter and does play an important role in making all other features possible. Its first 10 nm process chip, fabricated for it by Samsung no less, the Snapdragon 835 saves up not just on space but also on power to, somewhat ironically, make room for even more hardware and features. A smaller processor could mean a smaller circuit board, which could either make room for a bigger battery or make the smartphone smaller. We're betting on the former, though.
It's almost an engineering miracle that, despite that size, Qualcomm is able to cram so many features, like, for the first time, a 2×2 802.11ac MU-MIMO digital Wi-Fi right on the same die as the processor. Qualcomm did cut down a bit on the antennas, implementing antenna sharing instead to compensate. Those include antennas for the Bluetooth 5.0 and the new X16 Gigabit LTE.
Vying for precious space are the 8 Kryo 280 cores of the Snapdragon 835, divided between four 2.45 GHz m "performance" cores and four 1.9 GHz "efficiency" cores. Such a split wouldn't really matter if software always ran on the power-hungry cores, so Qualcomm has software safeguards in place to ensure that apps that don't need to will only sip up battery using the efficiency cores.
The Snapdragon 835, however, is built to take on the heat. Not literally, of course. Unsurprisingly, one of the key areas that Qualcomm is promoting is virtual reality applications. Utilizing its shiny new Adreno 540 GPU, the Snapdragon 835 promises a smoother VR experience almost comparable, though not quite, to standalone VR systems. And it isn't simply because of raw power alone. The chip implements foveated rendering with eye-tracking, ensuring that it spends most of its time making sure that the images you are directly looking at are pretty, while those at your periphery are left to be passable at best.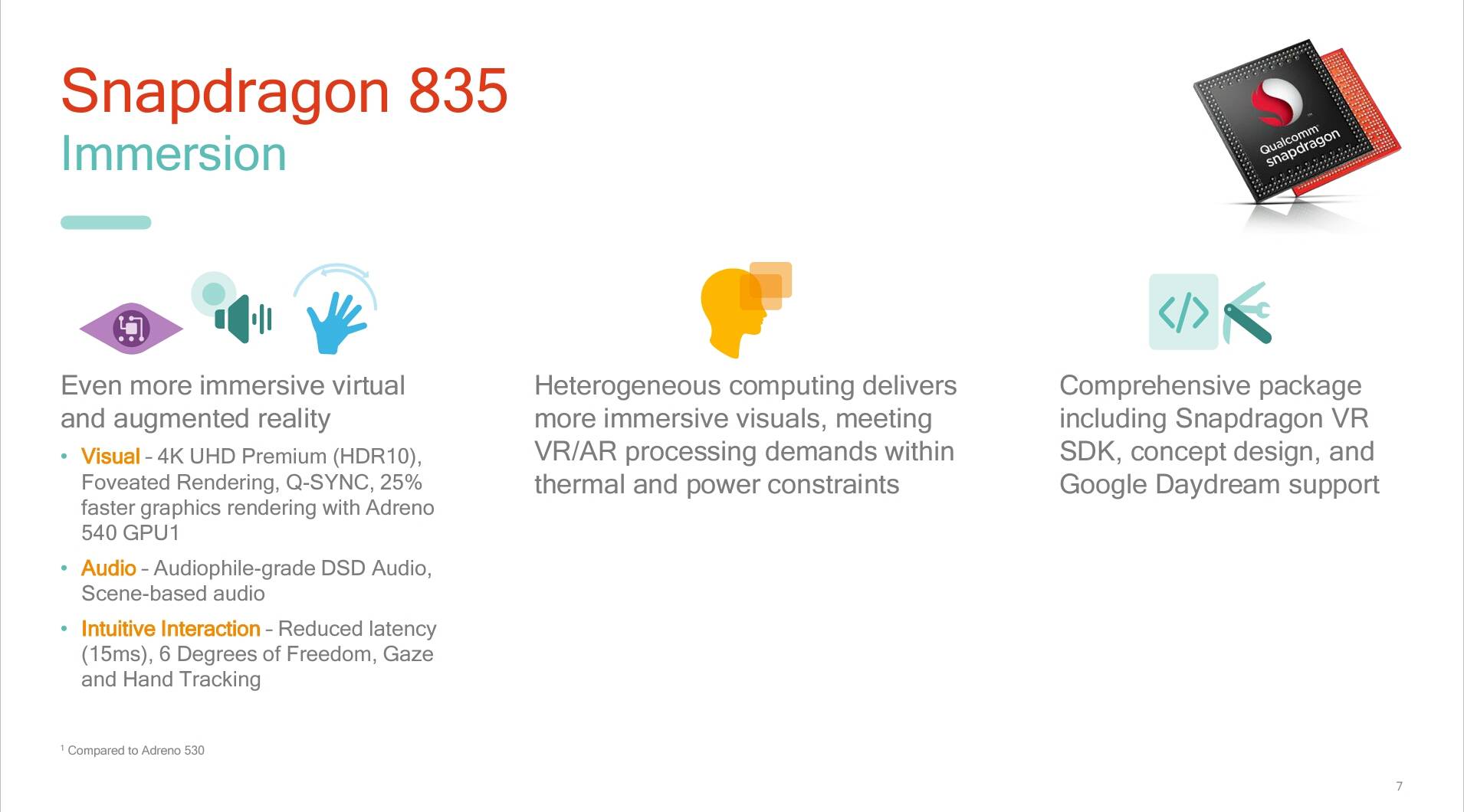 Another trend with smartphones these days are dual camera sensors. Qualcomm already boasted its support for that with the Snapdragon 821 and it is doing the same for the 835. But it isn't leaving the mono camera sensor smartphones in the dust either. Those can still take advantage of hybrid autofocus capabilities baked right into the silicon.
With all these features, you'd be justified in worrying about battery life. Never fear, assures Qualcomm. Thanks to that now smaller 10 nm process and size, the Snapdragon 835 is more energy efficient than any of its forebears. 25% more efficient, in fact. That, plus the smart handling and scheduling of tasks and processes on the CPU level makes Qualcomm confident enough to advertise a solid 24-hour talk time. Now that is something we need to see to believe. Chances are, actual battery life will be significantly less, depending on how an OEM tunes the hardware and software in the smartphone.
This is all great on paper, of course, but, as they say, the true test is in the tasting. Sadly, we'll have to wait a bit for those first brave devices to bear Qualcomm's biggest dare yet, which it says should happen within the first half of the year.