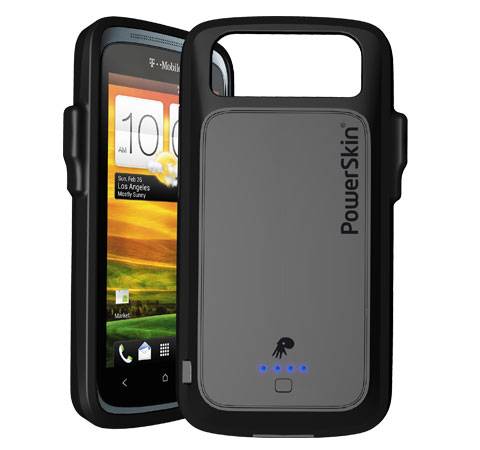 For those looking to get better battery life for your shiny new HTC One S while also protecting it at the same exact time we have just the case for you. The popular extended battery company PowerSkin has just launched their newest case for the HTC One S. Providing tons of additional power while protecting your phone with a top of the line silicon case all in one.
You can learn more at Power-Skin.com or see our HTC Sensation or Thunderbolt PowerSkin Review. Their cases don't replace your battery like many other companies. Instead it mounts via the USB port and provides additional power when you need it — all while protecting the phone at the same time. The new One S case provides almost double the power coming with a 1500 mAh extended battery for just $69.99.
PowerSkin cases are rechargeable, lightweight, durable, and have status LED's and a dedicated on/off button. If your battery gets low just turn on your case and you'll have an entirely new battery to get you through the rest of your work day. Most extended battery options make your device fatter and heavier, and the same rules apply here. The only difference is the case is included so you get the best of both worlds.
From today until June 5th get $10 off the HTC One S Powerskin case by entering promo code PSHTC123 at checkout and enjoy your new battery and protective case.
[device id=2316]
[via PowerSkin]