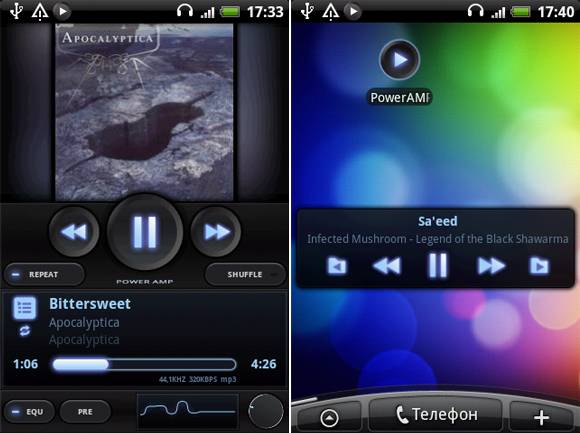 Behold PowerAMP, a music player for Android devices that looks really spiffy. Our homie Alexandr sends us word of this magical application and we've just got to toss word to you. Alexandr has this app loaded on his HTC Hero, so keep that in mind when ingesting the factoids and pics you are about to see. First, look at these couple of screens. He's playing Apocalyptica, which is one of the greatest bands in the history of the world, so we're off to a great start.
PowerAMP supports MP3, MP4/M4A (including loseless ALAC), FLAC, OGG, WAV, TTA, WMA and does not use system codecs. It can play from folders, playlists, and a system library, support for tags, quick scan of files, controllable using remote wired or wireless headset, and two skins for the player (this is sure to increase once the app is released in earnest) – both of which cover a really really nice looking interface.
The main screen of PowerAMP shows album art song slider (to choose where you'd like to be in the song), repeat button, playback order, previous / next track, and upon pressing the menu button: add tracks to the playlist, set the song as a ringtone, info on audio file, delete, transfer music file library, equalizer settings and a handy help menu.
Eventually PowerAMP looks to be costing around $5 and will have additional functionality and tiny fixes, and seems as though it will include more than one available language to view it in. Not that you need the language there though, as everything is basically intuitive as heck. You need Android version 2.0 or above to run it, at least for the Beta, and if you're a really nice person you'll report any bugs back to the developer so they can fix it. Find the download for this player here: [PowerAMP BETA] .apk – use at your own risk, as always.
[Via Android Owner]