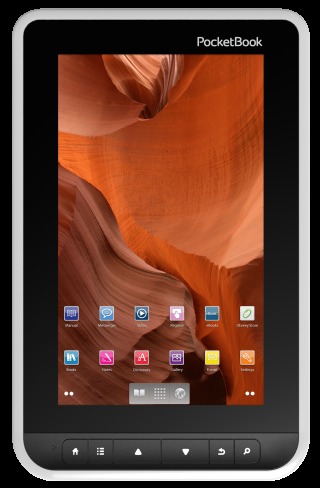 While Honeycomb and Ice Cream Sandwich tablets are becoming more common (about time, too) there's still a market for cheap tablets, most of which run Gingerbread. The Kindle Fire and Nook Tablet testify to that. Small manufacturer PocketBook is following up their previous 701 model with the PocketBook A7, yet another contender for the "more than an e-reader, not quite a tablet" crown. The hardware itself will seem pretty familiar if you've ever seen an HTC Flyer, but features like integrated next and back butons aim it squarely at the e-reader market.
Inside you get a 1Ghz single-core processor with 512MB of RAM, supplemented by a mere 4GB of storage. That should be plenty for e-books, but if you plan on bringing along any music or videos, you'll want to take advantage of the MicroSD card slot. The LCD screen uses the 1024×600 resolution that's become a standard at 7 inches. While there's no rear camera, a 2MP front-facing shooter should do well for web conferencing. The PocketBook A7 runs the latest version of Gingerbread 2.3.7, but is sadly without support for Google Apps and the Android Market. Several notable Android applications come pre-installed, like Dolphin Browser and Adobe Digital Editions.
PocketBook hasn't offered a price or date for the A7 reader, but if they want to compete they'll have to get it below the magical $200 mark. Considering the current price of the former 7-inch model, it could go for $150 or lower. While normally we'd chide a company for releasing a product with anything less than the most up-to-date version of Android, the truth is that the A7 might not be able to handle Ice Cream Sandwich – though we wouldn't put it past someone in the modder community to try.
[via Good E Reader]