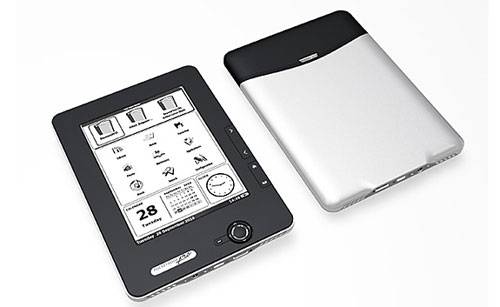 PocketBook USA has whipped out a couple new Android-powered devices with the new 602 eReader and the IQ tablet that are ready for Android fans to play with. The new IQ tablet has a 7-inch screen and a bargain basement price of $149 while the 6-inch E-ink screen eReader gets a price of $179.
The PocketBook IQ 701 tablet PC runs Android 2.0 and uses a 7-inch TFT screen with a 533MHz CPU. The tablet has 256MB of RAM, a USB port, headphone output, WiFi, and a SD card slot for storage. The battery inside the machine is a 1600mAh unit and the thing has a g-sensor. Considering the price, those features are not bad at all.
The 602 has the 6-inch screen with 16 shades of gray using E-ink tech for easy readability. The device has WiFi and Bluetooth support and has 2GB of internal storage with a microSD card slot using up to 32GB cards. It has search functions to find the book you want and supports just about every digital format there is. It also has text to speech functionality.