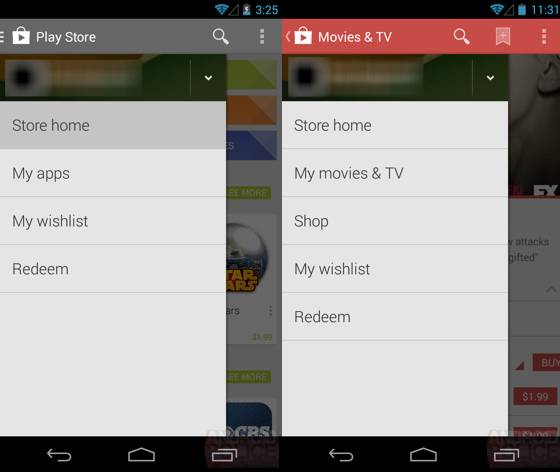 No big surprise, but news that is long overdue. According to Android Police, the newest version of the Play Store will feature slide-out navigation, rather than the top-right menu housing everything. Much like we see with other Google apps, the Play Store will house navigation from the left, and settings in the top right three-dot menu.

While no UI changes are noted, Android Police also says they are hearing the Play Store mobile site could switch to a card interface very soon. This all sounds just like Gmail, which altered the navigation ahead of switching the interface. Let's hope that when they do, they fix the scrolling issues seen on the web version.
This brings one of the most visited and used Google services in line with the rest of their apps and services. All major apps have seen the update, with Maps and Gmail following the lead set by Google+ and Google Now.
A unified approach is a now fully complete for Google, and if rumors we hear of Android 4.4 are true, even things like Downloads will see an update. As we wait for news on the Android 4.4 release, Nexus owners learn more and more about what they can expect to hit their devices soon after.