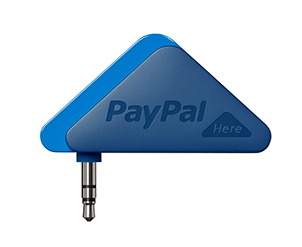 The folks over at the huge pay site PayPal have taken the wraps off of their new mobile payment system. Aiming to take on the popular Square Mobile Payments they are calling this new platform PayPal Here. With a triangle mobile card reader that clicks right into your smartphone, users of Ice Cream Trucks across the nation can be excited.
The device pictured above plugs simply into the 3.5mm headphone jack and from there becomes a full on mobile payment solution. With the new PayPal Here app it makes everything dead simple, and extremely convenient. Obviously merchants can accept cash and such but what is the fun in that when you have this little gadget.
The PayPal Here application is more than just a card reader too. If you happen to forget the dongle you can use the app to scan the customers credit card and they'll just need to input their zip code for billing, and the CVV code. The app will allow small business owners to work with inventory, send invoices, accept payments, and charge money to clients.
https://www.youtube.com/watch?v=x5woIGSOLGk
Then PayPal has assured us both the app and the dongle have a tight encryption and will stay safe should you lose or misplace them. The entire PayPal Here platform will be going live next week and the app and dongle both will be completely free, but there's a catch. PayPal will send you the goods for free, but will be charging a flat rate of 2.7% for each transaction — just a hair less than the competition who charges 2.75%.
As an added bonus, if you use your PayPal issued credit card you'll get 1 percent cashback making that 2.7% transaction fee actually be 1.7% instead. Every penny counts especially if you are busy doing lots of business. Currently this is only available for iOS and the iPhone but PayPal urges everyone in the Android world to get one too as they'll be releasing the Android PayPal Here application very soon.
[via SlashGear]