Facebook's goal is for you to not leave their site or their app once you're there, and so they plan to bring every service imaginable to both the main app and Messenger, just so you'll stay. When it comes to mobile commerce, PayPal is the name to contend with and so its partnership with the social media giant is crucial to the apps' success when it comes to the "next generation shopping experience". They are announcing a new and better relationship to make mobile commerce "smarter, simpler, and more secure" for both the actual users and the merchants who'd want to use the service as well.
If you live in the US, you will mostly be the one to experience these new and improved services. First off, it will now be easier to connect your PayPal to your Facebook and Messenger accounts. You'll then be able to use PayPal as a payment option on Messenger for those brands and individuals that have chosen to allow transactions on their pages or accounts. You'll now also be able to receive notifications for your PayPal account through Messenger once you've registered or connected your account.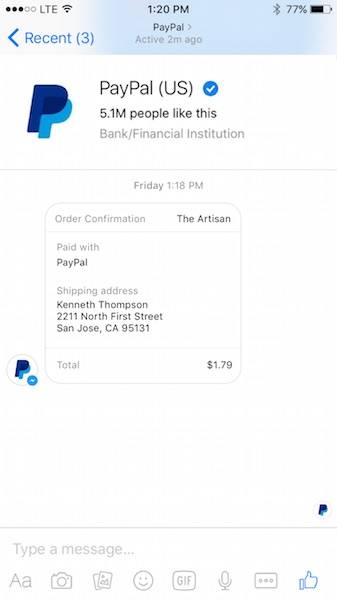 For merchants, this is an opportunity for them not only to have another payment option but also to reach the more than 192 million people who use PayPal for their online payment needs. Bots will eventually be playing a crucial role in this platform as more merchants will be able to accept payments directly through them. Merchants will also be able to use Paypal to be able to sell directly to consumers from the Shop section of the Facebook page.
However they did not give a timetable as to when these new and improved features will be rolling out to Paypal and Facebook and Messenger. They only said that consumers should be able "to look forward to" all the changes that will be happening, for the better of course.
SOURCE: PayPal