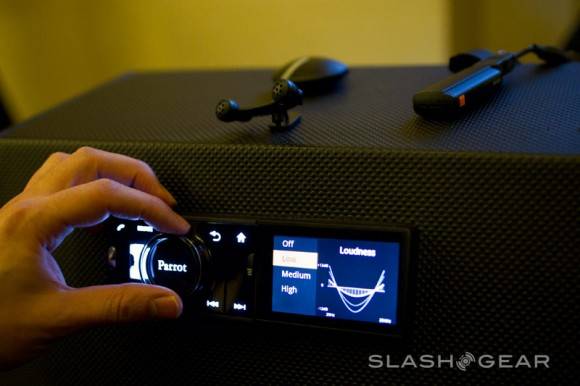 Parrot has unveiled a new car stereo head unit at CES that runs the Android operating system. Android really is branching out to all sorts of product types at CES and this is one place I really didn't think of the OS landing, but it's very cool to see. The ASTEROID has all sorts of features and since it's from Parrot, the king of Bluetooth, one of those features is the ability to use the head unit for hands free connectivity to your phone.
The radio includes a GPS dongle for mobile navigation when connected to a 3G key, which is not included, to provide access to Parrot Maps and alerts on road conditions for things like traffic and construction. Parrot says that the head unit will be updated regularly with new features as well. The device has a 3.2-inch screen.
The radio will play content for many different sources like USB drives, iPods, MP3 players, SD cards, and web radio stations when connected to 3G service. The head unit will support Bluetooth music streaming with compatible devices and has a cool voice search feature for finding music while driving. The ASTEROID also supports AM/FM signals and RDS text +. Pricing is unannounced at this time and the device will hit the US in Q2 2011 and Europe in Q1 2011.
Via SlashGear