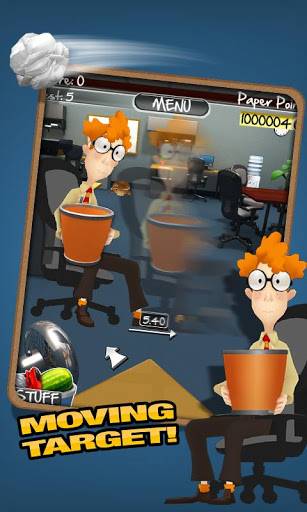 Oh snap! The classic and original Paper Toss game that took way too many hours of my time has been replaced. The popular developers from Backflip Studios have announced an all-new more fun, exciting, and better Paper Toss 2.0 for Android. It's been available for a few days in the Play Store, and somehow we missed it but check it out below.
This was one of my favorite games back in the day on my trusty HTC Nexus One. From flashing CM6 ROMs to flinging garbage in Paper Toss. It doesn't get much better than that. If you're looking to waste some time on that flight, train ride, or sitting at the Subway get the all new Paper Toss 2.0 today and give it a whirl.
The developers state everything has been improved, but it still looks pretty mediocre in terms of the usual cartoon graphics. This time we won't just be tossing paper either. They have bananas, grenades, and tons of other tossables. The game has a better physics engine too and we can now make bank shots, hit moving targets and much more. It's safe to say this will be twice the time-killing fun.
They've integrated leaderboards, made things destructible around the office and in cubicles as you aim for the garbage, and even have power-ups to help boost your score. If you're a fan of the original Paper Toss or are looking for a new fun game to waste some time give this a try from the link below. Get some!
[via Play Store]