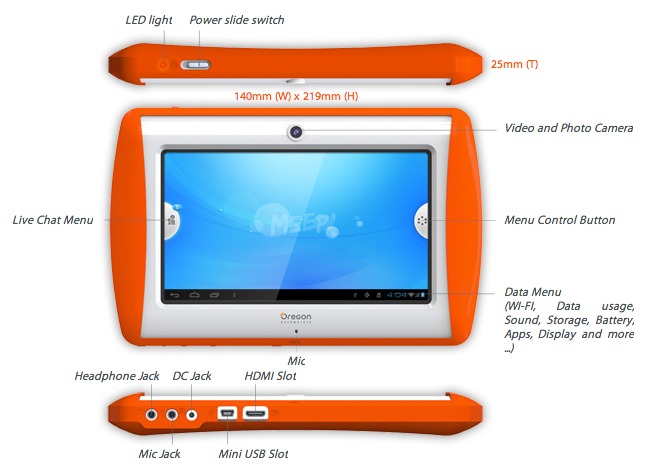 For parents who have children that constantly want to play with their tablet, MEEP! has a solution that could be perfect. Instead of risking your children messing up your precious device, you can snag a MEEP! tablet for them and let them go nuts. It is available now for $149 from most major retailers such as Amazon, Target, Best Buy and plenty of others.
The MEEP! has a rugged design that is perfect for kids. Kids are not always known for being gentle on their toys and other devices, so a tough tablet is necessary for them. It has a silicon bumper that runs around the whole device, which helps it handle the drops and rigors of being used by a child. It also has a recessed screen, which should help prevent cracks and damage. The screen is also built stronger, so it should resist cracking when dropped.
The device has a tweaked version of Ice Cream Sandwich 4.0 installed. Its interface is designed to be easy enough for kids to navigate without help. Parents can control the device from any browser and restrict the content their kids can use, as well as whitelist and blacklist certain content. They can also limit usage time from the cloud-based control center.
The device comes preinstalled with some great, child-friendly content. These include Angry Birds, UNO, Toon Goggles, art and learning apps. There is also a special store where kids can download apps for free and with MEEP! coins, which parents provide them. Parents can also use the remote feature to add apps using Google Play. The device includes 4GB of storage for games, photos or videos taken with the built-in camera, and books.