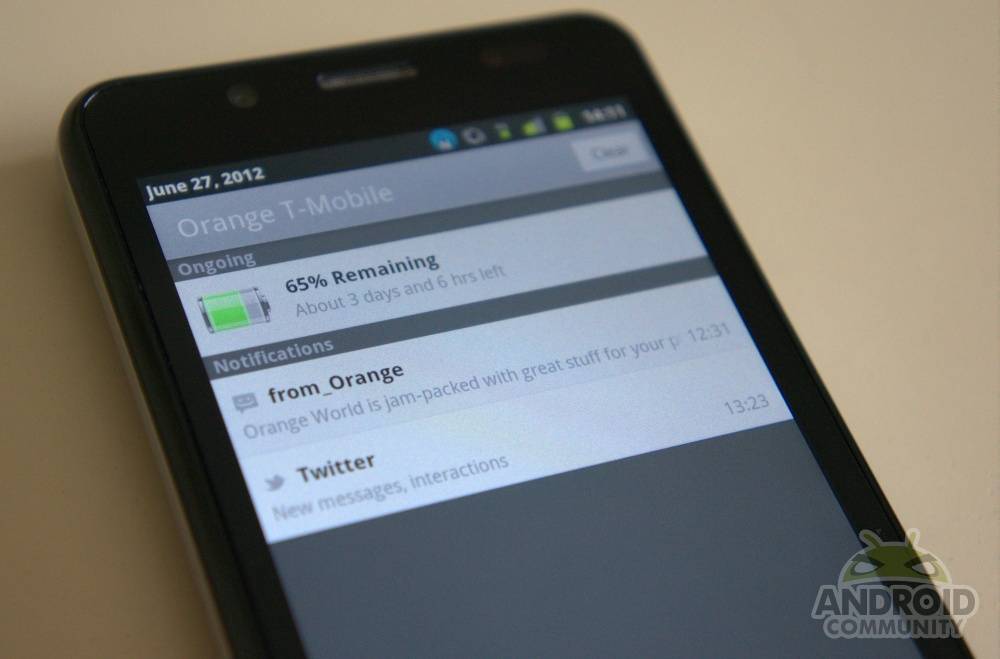 An Intel processor in a smartphone? It's more likely than you think. The company has been trying to cram its processors into mobile devices for some time now, with the first sightings at CES 2010, but its taken all this time for smartphones featuring Atom processors to make it to market. The first was the Lava Xolo X900, released in India back in May, then the Lenovo K800, with the Orange San Diego bringing up the rear. That's what we'll be taking a look at in this review; how does it stack up to ARM-based offerings? Keep reading to find out.
Hardware
Uninspired is one word you might use to describe the design of the phone. It's very generic and extremely basic, taking absolutely no risks. What you get is a black slab covered in glass and a rubberized texture adorning the rear of the device. Taking a tour around it, you'll find the 3.5mm headphone jack, microphone, and power button at the top; volume rocker, microSIM card tray, and camera shutter button on the right; microHDMI output on the left; and microUSB, speaker, and another microphone on the bottom.
While the front and back of the device is dominated by black, there is a silver trim that runs around the edge of the device, almost making this look similar to an iPhone 4S. There won't be mistaking the two on closer inspection, however. The handset feels solid enough, but there was some minor creaking and flexing towards the bottom of the device – it would probably withstand a fall or two, but it's not as well-made as some other devices in this price bracket.
The 4-inch 1024×600 display, meanwhile, is actually pretty good. The display is usually the first component that feels the wrath of cost cutting measures in attempts to hit aggressive price points, but Orange and Intel have managed to sneak a nice panel onto the San Diego. Pixel density is good, with text and images appearing crisp and sharp. Color balance is also good, and brightness is just about good enough to use outdoors. Viewing angles are surprisingly solid too, although you shouldn't expect anything close to what you'd get out of an AMOLED or IPS display.
As for the other specs, there's an Intel Atom Z2460 single-core processor clocked at 1.6Ghz powering the unit, paired with 1GB of RAM and 16GB of storage. A word of caution: only about 10.7GB is really available, and there's no microSD card slot or USB OTG support, so you might find you'll run out of room very quickly once you start adding music and photos. An eight megapixel camera can be found on the back, interestingly when most other entry-level phones aere rocking five megapixel shooters, and there's quad-band HSPA+ support (850 / 900 / 1900 / 2100). The handset, however, is locked to Orange, and there's currently no unlock solution.
Software
Gingerbread. We'll give you a moment to groan. Yes, manufacturers are still shipping phones with Gingerbread, but we might have to give Intel the benefit of the doubt. The company has had to make sure that everything runs perfectly on its processor, perfecting the binary translation engine that enables Android apps designed to work with ARM processors on this new chip. Orange also say that an ICS update is planned, and Intel reportedly has ICS running on these phones already internally. Still, Jelly Bean has just been unveiled at Google I/O, so by the time the San Diego gets Ice Cream Sandwich it'll still be behind the times.
Orange has skinned the San Diego, but it's a very light modification with mostly stock elements. Jump into your list of apps or peep the notification drawer, and you'll still see stock Android lurking underneath, but Orange has added its own launcher along with some custom apps on top. Navigon Select offers turn-by-turn navigation, Quickoffice gives you… office capabilities, doubleTwist serves up your media, and Dailymotion pulls down video from the web.
There are some carrier branded apps too such as Orange Wednesdays, Tags, Assistant, et al, but the most interesting addition is Gestures. That allows you to draw shapes on you screen in order to quickly launch certain apps. So if you draw an "O", it would open up Orange's homepage. You can't set a custom shape yourself, but Orange has provided quite a few to choose from, and what you can change is the action that happens when you do perform the gesture. The only downside is that this feature only works with Orange's custom launcher, so if you switch to something else you'll lose out.
And what about apps? Everything that's found on the Play Store hasn't been designed to run on Intel's processor, so how does it all work? Again, the company has made sure the binary translation engine keeps things moving along. We tested a handful of apps with none of them presenting any problems. Everything ran smoothly and how it was supposed to, with no crashes, including games. having said that, there are some games missing from the app store that will need to updated to take advantage of Intel's processor. That goes for some apps to, and it's really up to developers to make that happen. As it stands, you shouldn't run into any trouble with this phone.
Performance and Benchmarks
Performance was a funny thing, especially when compared directly to benchmarks. Flicking through Orange's custom launcher revealed some stuttering and lag, yet popping up the onscreen keyboard and using it was lightning fast – the fastest we've ever seen on a Gingerbread handset, in fact. The browser, meanwhile, was great 90% of the time, but it was never fully fluid, occasionally missing a beat or hanging for just a fraction of a second. It's almost up there with the best smartphones, but it can't quite keep up in the end. Ice Cream Sandwich might possibly fix this, and at least then you'll have access to alternative browsers like Chrome and Firefox.
As for benchmarks, the Atom Z2460 clocked at 1.6Ghz performed well. Quadrant returned a score of 3,608, AnTuTu gave us 5,647, NeNaMark 2 finished with 39.7fps, and SunSpider 0.9.1 absolutely screamed with 1,436ms. That's on par with high-end phones like the HTC One X and the Samsung Galaxy S III. Impressive, but we wish it was mirrored in real world browsing tests.
Camera
Maybe they should have sprung for a great five megapixel sensor instead of an average eight megapixel offering. Photos often look washed out and dull, with some noise reduction pretty much constantly infiltrating images to wipe away fine detail yet also keep noise at bay. There was also some macro focusing issues, with the camera needing several attempts to lock onto subjects.
Colors seem strange in some pictures, with reds and blues receiving preferential treatment in some scenarios to an almost absurd extent. Low light photos didn't look very good either. Still, burst mode seems to work as advertised, with 10 photos taken in rapid succession and the camera app allowing you to choose the best photo.
The 1080p output, however, is just plain bad. Compression actually isn't an issue, even if footage looks a little softer than it should. Instead, it's the ridiculous jelly-like motion of all objects that are captured, with crazy distortion occurring with even the slightest movement. Don't try to pan the phone either, as that just makes things even worse. A shame considering the recorded audio sounds very good.
Battery Life
You can easily get a full day out of the San Diego, although we noticed that battery drain was slightly higher than ARM-based alternatives. It's not anything to worry about by any means, and the fact remains that if you hammer the phone with the screen left on most of the day, it'll run dry as quick as any other phone. The best news to take away is that the opposite is also true, so it looks like Intel has done a great job with power management. You probably won't be getting into your second day without feeling the pressure, but Intel deserve some credit here.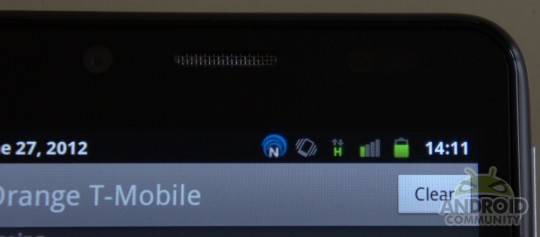 Our first video rundown test involved a 1080p H.264 High Profile L4.1 clip encoded at 20Mbit/s with AAC audio played on loop, with brightness set to 100% and headphone volume set to 50%, plus WiFi/3G left on. The phone lasted 2 hours and 43 minutes before dying, which is somewhat disappointing. A second test with a 720p H.264 Baseline L3.1 clip encoded at 2Mbit/s with the same test conditions gave a better result of 3 hours and 59 minutes. Even then, the phone falls short of its peers.
Wrap-Up
The Orange San Diego is a nice entry-level phone. It's not all rainbows and unicorns, as there are some questions as to app compatibility for certain games, and the eight megapixel camera is nothing to get too excited about. Still, you get a really good screen for this price point, above average battery life, and a solid little handset, even if it is held back by Gingerbread.
You do need to bear in mind two things: one, there's no current SIM unlock, so you can't pick one of these up for cheap and frolic with it on another carrier. Two, the bootloader is locked, so you won't be able to flash any custom ROMs and get in on any potential Ice Cream Sandwich action. If you can live with those two caveats, then considering it good value for money.Orange has priced it well too, currently offering the phone for £199 on Pay As You Go. Anything more than than and you're stumbling into mid-range territory, but the San Diego makes a compelling argument where it is right now.