At this point if you've been following tech news, you know that even if something is set to officially launch in the next few days, we really can't help but read all the rumors and leaks about highly anticipated devices. Or if you're a bit cynical, you might consider these leaks as actually part of the brand's marketing campaign. In any case, we have a new round of leaks for the Oppo F9, which also confirms some of the earlier rumors about it.
The only sort of official thing we can probably confirm is that it may probably be the first smartphone that will sport the Gorilla Glass 6, only because Corning themselves had a press release about it. They did not say though that it is the Oppo F9 but we all assume it will be. All else is unconfirmed but probably close to the truth right now. The device will come with a 6.3-inch water drop display with Full HD+ resolution. Based on a press render of the smartphone, it has a 90.8% screen to body ratio and has a notch at the top, small bezels at the bottom and also tinier bezels on the side.
On the inside, the phone will be powered by a MediaTek Helio P60 octa-core processor and will run on Color 5.2 UI based on the Android 8.0 Oreo OS. It has 4GB RAM and 64GB of internal storage. Camera-wise, it has a 16MP primary sensor and a 2MP secondary sensor at the back with f/1.85 aperture. It is arranged horizontally (and the fingerprint sensor is at a convenient position at the back, unlike some other phones).
The front-facing one may be considered the main one as it has a 25MP shooter with f/2.0 aperture and it even has AI support. Trust Oppo to live up to its "selfie" branding. The Oppo F9 will supposedly have a 3500mAh battery and also comes with dual SIM support and a slot for a microSD card for up to 256GB storage. It will come in Red Sun and Blue Twilight colors.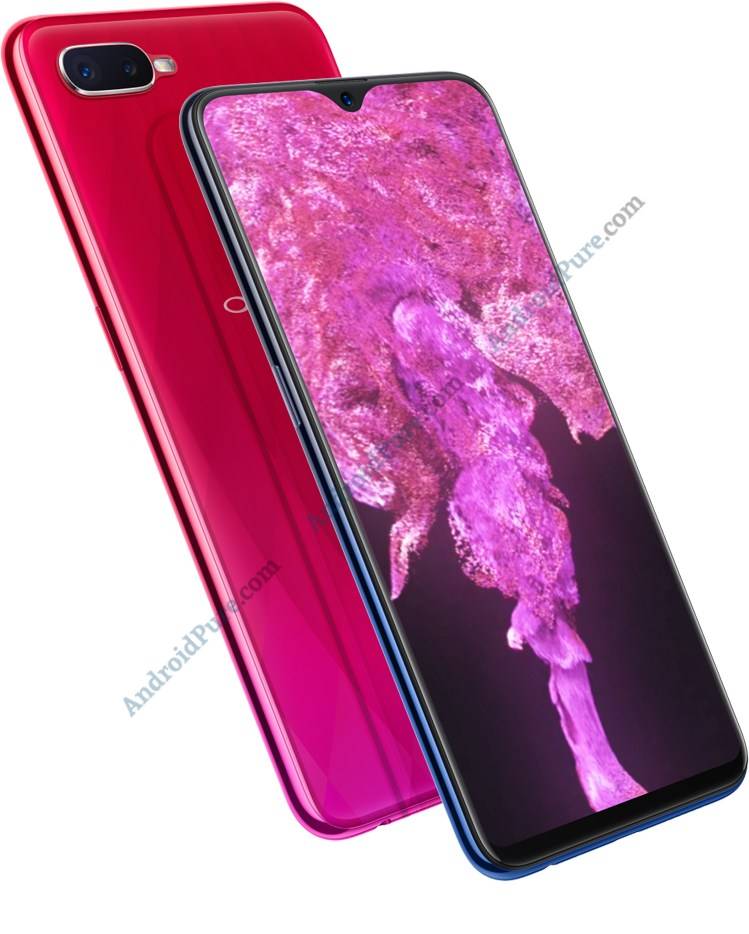 We don't know yet the price range of the Oppo F9 or the Oppo F9 Pro as well. We'll probably know in a few days as the former is expected to be announced on August 15 while the latter will be launched probably a couple of days after in India.
VIA: Android Pure