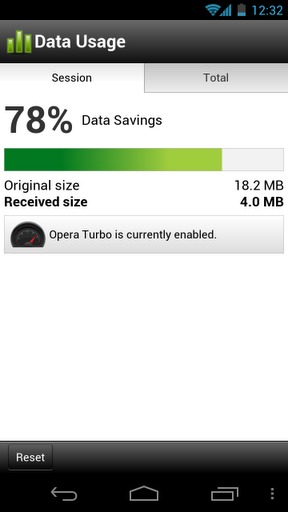 Opera has been in lab working, and they have just launched Opera Mobile 12.1 for Android. Opera claims this new browser is safer and slimmer, while still being packed with features. Opera Mobile 12.1 is built for four different chipsets, and users only download the version suitable for their device. This helps keep the files small and bloat-free.
The new version has Opera Turbo compression technology. This is designed to compress things and keep data usage down. This should come in handy for users who are roaming internationally and want to keep their bill as small as possible. A simple click in the options turns on compression and saves valuable data.
Opera has put a major emphasis on safety with its latest update. They have added a new form of fraud detection that automatically alerts users to webpages that are suspicious. You can still visit a site the fraud detection alerts you of, you just might want to think twice about it.
Opera has included some other features in this update such as more web standards, SPDY, WebSockets, new CSS features, and better HTML 5 support. As always, Opera is available free from Google Play. If you try it out, hit the comments below and let us know how you liked it!