It was a while back when OnePlus started to sell those USB Type-C cables – the same ones that come with the OnePlus 2 package – as separate products. Now OnePlus CEO Carl Pei is informing people that the cable may not be compatible with some 3rd party chargers, and there's even a risk of the cables damaging those chargers in worst cases.
The OnePlus CEO however was quick to say that the USB Type-C cables have always been, and are still safe to use with the OnePlus 2, with which compatibility was never in doubt. However, OnePlus has discovered that their USB Type-C cables and adapters that they sell through the OnePlus website are not up to spec with the USB Type-C standards – OnePlus is using a 10-ohm resistor when it should be using a 56-ohm resistor for the cable to be universally compatible.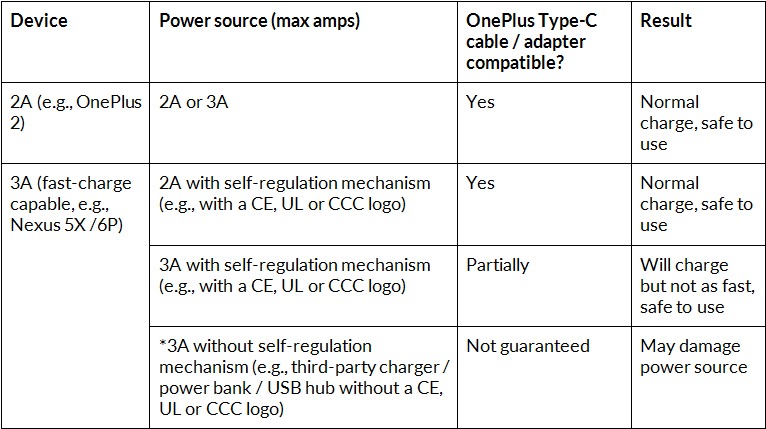 As such, the cables and adapters are not compatible with power sources that support quick charging – 3 ampere chargers, power banks, power supplies – that have no self-regulating mechanism, without the a CE, UL or CCC logo on it. If your charger is a 3-ampere charger with self-regulating mechanisms (with the logos), then the cable is usable. For 2-ampere chargers (regular chargers) with self-regulating mechanisms, the cable is safe to use.
OnePlus is offering refunds through the OnePlus website for North American customers. Carl Pei reiterated at the end of his post that the cables and adapters are perfectly safe to use you're your OnePlus 2 smartphone, as long as either you use OnePlus's own charger or adapter, or you don't plug it to a charger or power supply without a regulating mechanism. Make sure you are informed about this.
SOURCE: OnePlus