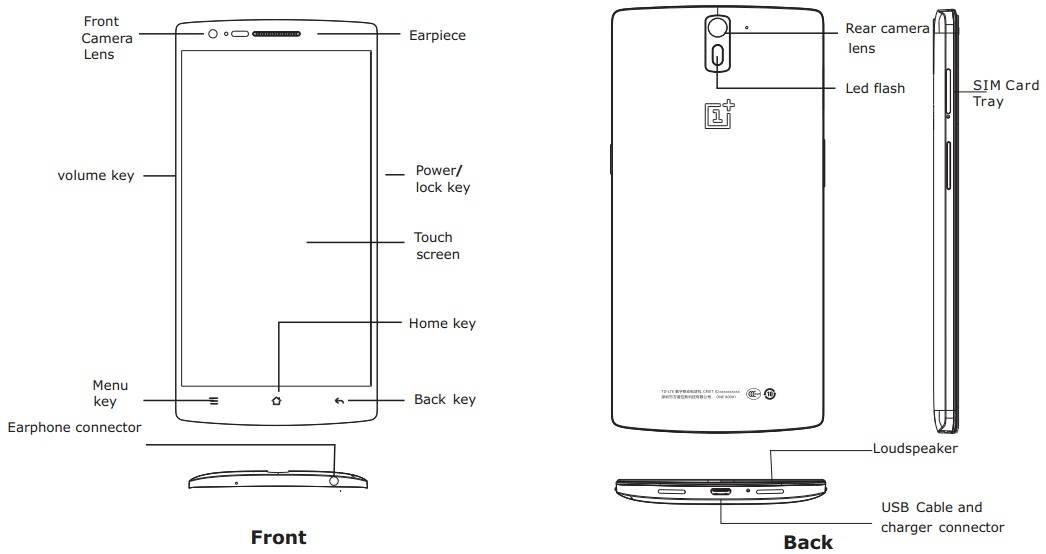 An FCC filing for the OnePlus One has recently been spotted. As we've already seen the official announcement for the device we weren't expecting much in terms of surprise here, however the user manual is talking about a memory card slot. We've yet to see anything in terms of a microSD card slot direct from OnePlus, and we also haven't seen anything mentioned from those who have gotten hands on with the device.
But still, there is mention in the manual. Page 24 of the manual lists the "Micro SD card extension support." There really isn't much there, and the manual just goes on to mention the basics.
"The maximum Micro SD card memory supported by this device is 32G, allowing great promotion of storage. To prevent harm to your device, please use an authentic SD card."
Slightly more interesting was how the memory card slot wasn't listed on the diagram (seen at the top of the post). We could almost think the user manual had an extra paragraph tucked in there on page 24, however that was also listed in the index of the manual. Perhaps there will be another variant coming with support for a memory card slot, or perhaps there is just an error in the manual.
A bit more of an important takeaway from this filing was the testing. This essentially means the handset is one step closer to being available for purchase. Granted, we've already learned the release timeframe, but this filing also removes one of the potential last minute delays. In this case the OnePlus One has been tested and approved for LTE bands 4 and 17, which means LTE support with both AT&T and T-Mobile.
VIA: phoneArena
SOURCE: FCC