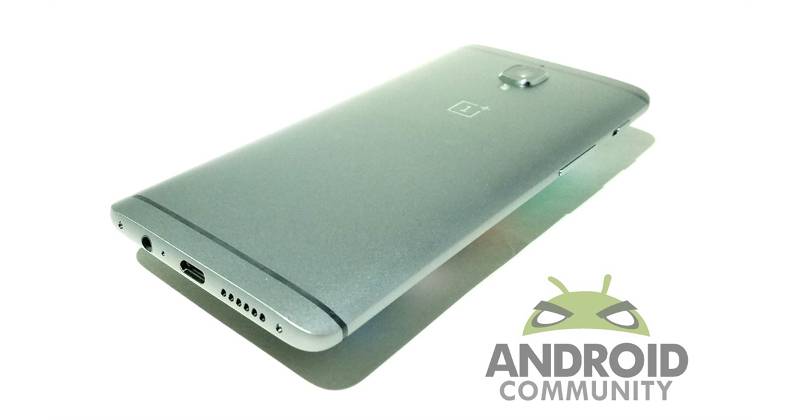 OnePlus is poised to make you forget all about the invite-only ordering system that frustrated would-be buyers of previous phones by way of the new OnePlus 3. Positioned as the brand's flagship, the OnePlus 3 aims to snag new customers by way of packing a long list of features into its sub-phablet footprint.
The first thing we noticed about the OnePlus 3 when we picked it up was the 5.5-inch full-HD display. It's as bright and vibrant as any Android phone you're likely to find on today's market, including the Samsung Galaxy S7. The AMOLED screen offers 1080p resolution from a very thin bezel, and the Gorilla Glass 4 comes with a screen protector that's attached right at the factory – an unusual decision from an OEM, and one that doesn't actually go edge-to-edge. It's a little smudge-happy, so we removed it in short order, but if you keep it clean it does its job fairly effectively.
The screen wraps into an all-metal body – in this case, anodized aluminum – with an overall thickness of 7.35 mm. On the back you've got a fingerprint sensor to wake everything up (in under 0.2 seconds, according to the spec sheet). The curved edges are easy enough to grip, and the phone can be had in either graphite or 'soft gold' color schemes (late availability). In our hands it felt very much like an HTC One crossed with an iPhone 6. We also sampled a few different cases from OnePlus for the 3, all of which were formed out of flat plastic. You'll be familiar with the textured case if you had the same unit wrapped around your OnePlus 2, but the Carbon Fiber-look case is new for the OnePlus 3.
The phone's specs are as solid as the OnePlus 3's construction. In addition to the addition of NFC – a feature that was missing from the OnePlus 2 – you'll find a quad-core Snapdragon 820 processor running at up to 2.2 Ghz works together with up to 6 GB of RAM to run Android 6.0.1 as quickly as possible – albeit underneath the OnePlus OxygenOS, which is advertised as 'bloat-free.' OnePlus claims a 35% speed increase over the OnePlus 2.
This is one time when we're inclined to agree with a manufacturer about their particular flavor of Android – we liked the interface for customizing the home screen, and in fact the entire display control system, including color temperatures, dark modes, and accent colors, was quite friendly to use. The bootloader on the OnePlus is also completely unlocked. OnePlus was keen on the 'Shelf' feature in its OS, and it's fun to use but we found ourselves having to make an effort to interact with the widgets we were keeping there, as it was outside of our normal Android workflow.
With 32 GB, 64 GB, and 128 GB versions of the OnePlus 3 available you'll have plenty of storage space to archive all of the pictures you're likely to take with the 16 MP f/2.0 rear camera, which features a manual mode and RAW image support. The OnePlus 3 also supports OIS and 4K video with the rear camera (which uses a Sony IMX 298 sensor) and 1080p video with the 8 MP f/2.0 front-facing camera. One unusual feature, however, is that the camera wouldn't remember that we'd selected the 'HD' mode (essentially a beautifying filter for your pics), forcing us to re-toggle it each time we accessed the camera app. For most people this won't be a problem, but it's something to keep in mind if you're into auto-image enhancement. These are some shots taken with the OnePlus 3's main camera:
The OnePlus 3 additionally features Dash Charge, which can bring you from zero percent battery to just over 60 percent in half an hour. The 3,000 mAh battery benefits from the Dash Charge cable's ability to manage heat instead of transferring that responsibility to the phone itself, which allows for high-intensity charging even while you are using the device. It's a 5-volt charge all the time, too, which combines with several built-in safeguards to prevent the cable from damaging the OnePlus 3 while it's plugged-in.
Priced at $399.00, and as we mentioned earlier, available directly from the OnePlus website without the need for any secret handshakes or invites, the OnePlus 3 is in its strongest position to date in terms of taking on mainstream giants from Samsung, HTC, and LG in the Android world. Although more expensive than the OnePlus 2 was when it first debuted, the new device seems like a great way to get a powerful phone that fits in your hand without having to jump up to the phablet world, or spend a fortune in the process.