If you've been around mobile technology then you will know that the Omate smart ring isn't the first of its kind around. There have been "smart rings" for just about any purpose you can think a ring will do, be it gestures for changing TV channels, measuring health data, or give your ring finger some vibrations to remind you that your phone has notifications. In this, the Omate smart ring differs uniquely because it only vibrates for that one person calling your phone.
The argument for the Omate smart ring is this – smartphone users will usually ultimately look at notifications on a regular basis, and a ring is not the device to help you with that. Instead, you can program the ring to vibrate when one particular person is calling, presumably a loved one or a person very important to you, like a spouse or one of your kids. The ring pairs only to one smartphone via Bluetooth LE, and will only vibrate when the specified contact calls that specific smartphone.
And because the ring will not have much to do – it won't vibrate for every call or notification you get, remember? – the developers claim that the battery inside can last for up to five days on a single charge. The logic is solid, of course. The only question is, will Android users buy it?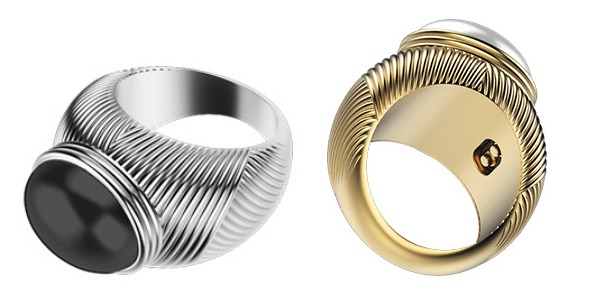 The Omate smart ring is launching this year with iOS compatibility, with Android compatibility coming early 2016. The pricing is extravagant, to say the least – not least because it is handcrafted in Italy and features either 18K gold or silver plating. Then users can choose the gemstone – either blue topaz, opalite, onyx, sapphire, or ruby. This wearable tech will set you back from USD$500 to as much as USD$2,000. Wow.
VIA: SlashGear