The smartwatch has been on an upward trend in terms of visibility – in that a lot of manufacturers are making them now. Whether that translates to consumer need – where buyers actually think that they need a smartwatch – is still up for debate. Be that as it may, companies like Omate are pushing to peddle their wearable devices in whatever way they can – just like the Omate Rise standalone smartwatch, now on a limited time crowdfunding campaign.
The Omate Rise is a standalone device, make no mistake about that. It doesn't need a connection with your phone to function – although it can do that as well. The Omate Rise is designed in the now normal round-face aesthetic that smartwatches tend to have – and it is powered by a 1.2Ghz MediaTek MT2601 processor. That is supported by 512MB RAM and 4GB internal storage. But what's good about the device is that it has a slot for a SIM card, where you can get 3G connection for your smartwatch.
From there, it can give you notifications, reminders, do activity tracking, navigate you on your drives and bike rides, and even play your music. The Omate Rise runs on Android 5.1 Lollipop, and has a 580mAh battery to keep the lights on. Did we mention that the Omate Rise is also water resistant up to 1ATM? Well, it is.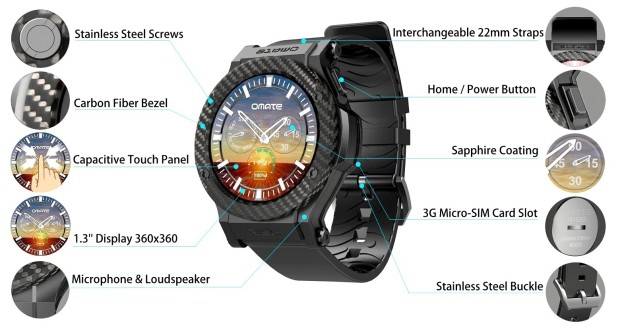 If you want to support this campaign, check out the link below. At the moment, it has gone four times over its target. You can get the Omate Rise smartwatch for as low as USD$199. The projected retail price for the device when it goes to market is USD$398.
SOURCE: Indiegogo