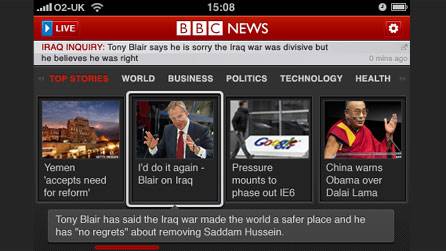 If you are from the UK this is great news for you. BBC has an Android app in the works and it should be available soon in the Android Market. This app will aim to delivery the full BBC news experience bringing not only news but sports as well and there is a chance that the iplayer, which is a video service that allows you to catch up on news you missed, will be included also.
Some key features of the news app are:
* Breaking news, updated throughout the day
* Personalisation, the ability to create a personal news experience
* User-generated content, the ability to send comments and pictures direct to the newsroom
* Blogs, analysis and commentary with the distinct BBC voice
* Video and audio content from the BBC News channel and other BBC sources
And for the sport app:
* Live text commentary with distinct BBC voice
* Listen live to Radio 5 Live commentary
* Receive up-to-the-minute scores and league information
* Participation: integration with 606, and the BBC sport blogs
* User-generated content, submission of comments via SMS
* Video and audio content: integration with Radio 5 Live, plus video clips (subject to rights availability)
* Personalisation: selection of your teams and clubs
And finally the iplayer:
* Live TV and radio
* Improved user experience: enhanced interface using the latest app gestures and transitions
* New personalisation features
These apps should be available around May for the UK and the rest of the world and the iplayer will be exclusive to UK. For more information go to BBC's official press release page.