Smart eyewear, novel as they still may be, is already catching on with some device OEMs. But almost all of them have one thing in common: they all still need a smartphone to work whether for connecting to the Internet and data like Google Glass, or providing the heart of the device itself like Samsung Gear VR. The Osterhout Design Group's ODG R-7 is notably different. It has its own Android-based OS running inside of it, freeing it from the shackles of a smartphone.
Granted, smart glasses are still far from becoming a semi-ubiquitous mobile device the way smartwatches are slowly becoming, but that has never stopped companies from developing and refining what could be the next wearable revolution. But while efforts like Google Glass try to shave off the bulk by offloading a good part of the experience to a companion smartphone, the ODG R-7 goes the opposite direction without turning into a full VR helmet like the Gear VR or the Oculus Rift.
This smart glass is practically a smartphone on your face, running on a 2.7 GHz quad-core Qualcomm Snapdragon 805 (MSM8084), with a more than ample 4 GB of RAM and between 16 to 128 GB of storage. Aside from the processor, it sounds almost like Google's Project Tango, with the same "experimental" feel but with less cameras. Running on top of that is ReticleOS which is based on Android 4.4 KitKat and claimed to be optimized for such a use case. You've got Bluetooth and WiFi, though no mention of cellular connection, a 720p camera that sits on the nosebridge, dual 720p stereoscopic see-through displays, magnetic charging port, USB OTG, and magnetic stereo audio ports with earbuds. For all of those features, you do end up with something that resembles military sunglasses, though some parts, like the ear horns and the photochromic shields, are removable.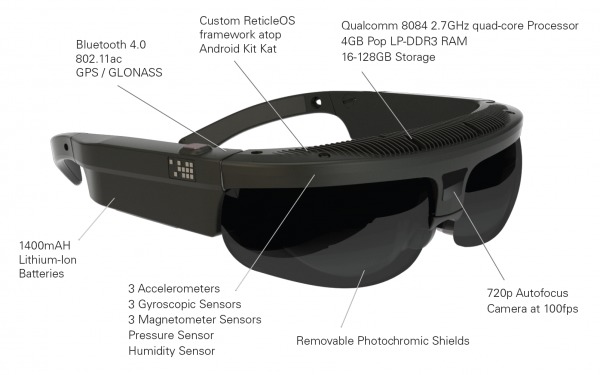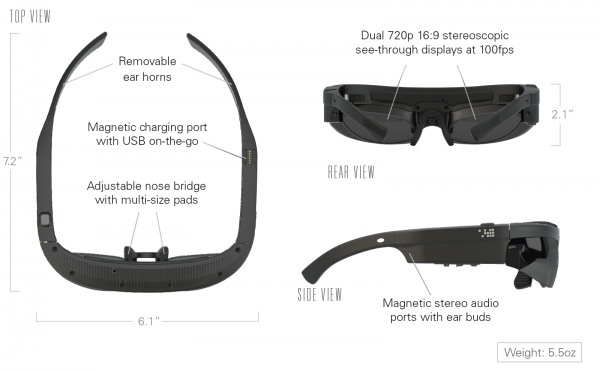 Qualcomm is more than just the beating heart of these glasses. Together with the revelation of the ODG R-7 comes the announcement of Qualcomm's Vuforia SDK for Digital Eyewear. Although existing smart glasses and VR headsets do have their own developer tools, Qualcomm's promises to be the one you'll need for developing eyewear apps across a number of devices, including the Gear VR. The Vuforia SDK for Digital Eyewear is slated to go out to developers this Fall. No word yet on any availability for the ODG R-7 glasses.
https://www.youtube.com/watch?v=vfCQWjI9sYc