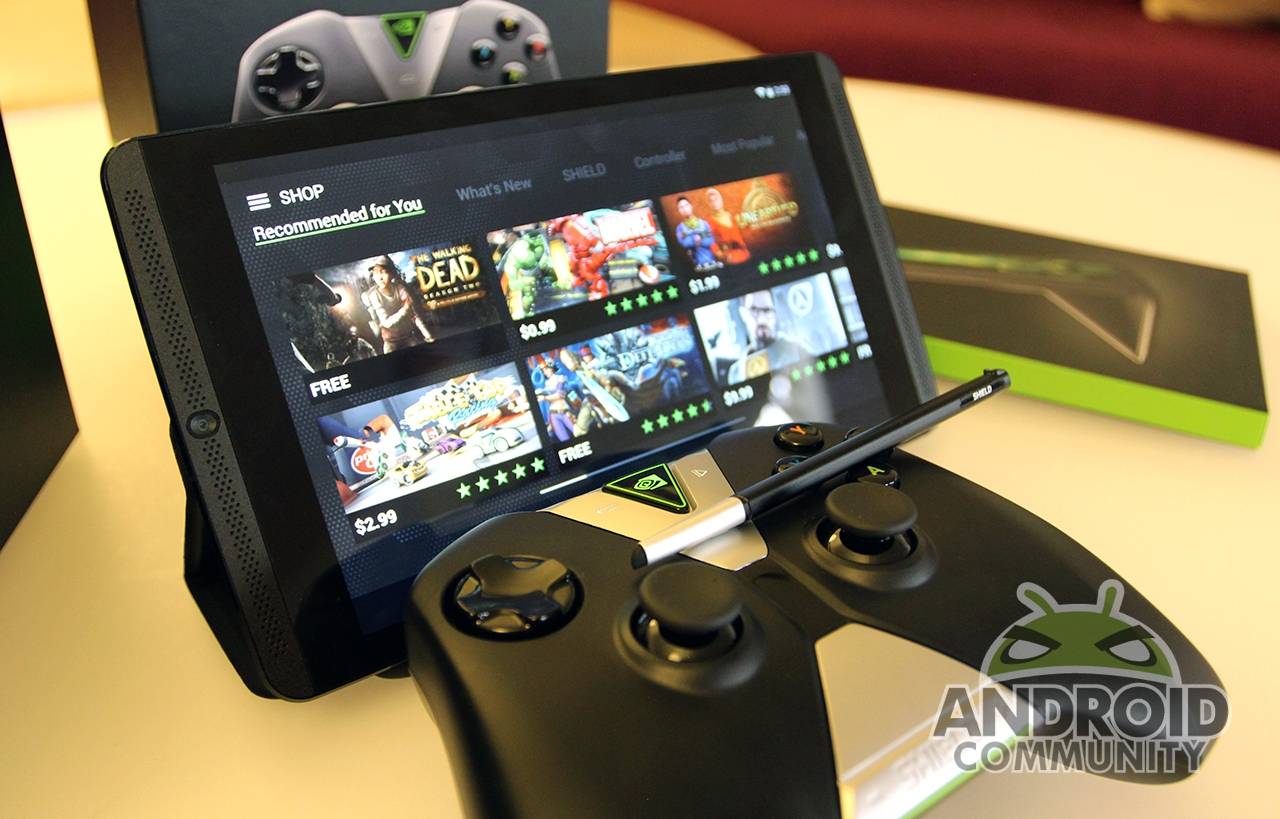 What if the NVIDIA SHIELD were different? The portable gaming device turned heads on launch, and continued to do so well into its lifespan, supporting PC gaming as well as Android. The latest iteration of SHIELD takes it one step further, bringing you a tablet and controller that work together, but aren't joined at the hip.

The SHILED Tablet and SHIELD Controller are meant to work together, but also don't have to. The tablet itself is a robust performer, running things with the NVIDIA K1 chipset, which has 192 GPU cores. The 8-inch display is full HD with a 1920 x 1200 resolution. Front-facing speakers house NVIDA's Pure Sound technology and a dual bass reflex port. The 16 or 32GB internal storage is upgradable to 128GB via micro SD card, And two 5MP cameras will keep you shooting pics as well as on-screen enemies.
The tablet also has a stylus — and a good one at that. NVIDIA says theirs is the first GPU accelerated stylus, which will be great for artists. Blending colors and altering light sources are the name of the game here, and don't worry about losing track of the stylus; like any good digital pen, it has a place in the tablet.
The controller is much like you find with the current SHIELD — responsive, stylish, and a pleasure to game with. NVIDIA is using WiFi to couple the controller with your tablet, which they say has two-times lower latency than Bluetooth. If you have a favorite controller, Bluetooth or wired, you can use that as well — it just won't be as good as the controller NVIDIA has. Android enthusiasts will like that the controller has voice capabilities; just hold down the home button, and ask it to launch a game or perform a search!
Gaming remains the focus for NVIDIA and their SHIELD lineup, and the SHIELD Tablet is the best and brightest for this. The SHIELD Tablet is the first to offer Gamestream, which is the backbone of what NVIDIA accomplishes here. You can play PC or Android games, and stream (get it?) them to your TV. Perhaps better, you can join up to four controllers at once to play multi-player games with your SHIELD Tablet.
Of course, you'll get access to SHIELD Hub, which is your jumping-off point for NVIDIA gaming. For those interested in sharing their gaming experience, NVIDIA is also allowing Twitch streaming. When you're gaming on the tablet, the NVIDIA SHIELD cover lets you acheive the optimal screen angle — no matter what that is for you.
An 8-inch tablet with a blazing fast processor, WiFi or LTE, a stellar controller, groundbreaking stylus, Android and PC gaming, and the ability to both stream games to your TV and play with friends — what more could you want? How about a price-point that starts at $299, and a controller that sets you back $59? The SHIELD Tablet will be available later this year, but pre-orders are currently being accepted via the SHIELD page, Amazon, Best Buy, Fry's, GameStop, Micro Center, NewEgg, Tiger Direct, Memory Express, NCIX, ThinkGeek, or Canada Computers.