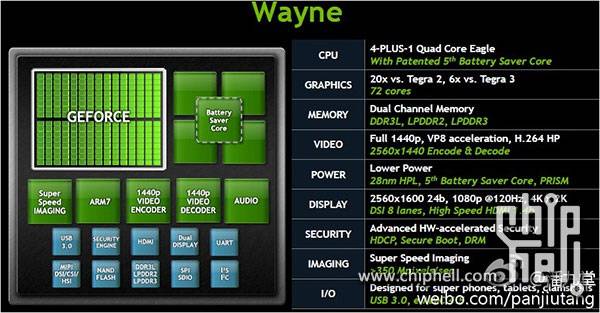 The upcoming next generation quad-core chipset from NVIDIA has apparently leaked in a set of slides today, confirming the Tegra 4 processor along with some mighty impressive specs. The leaked slide details the SoC as "Wayne" and shows a significant increase in graphics cores, USB 3.0 support, 28nm processor fabrication for more efficiency, and much much more. They're touting 6x the graphics performance of Tegra 3. Read on for the full details.
The image above, leaked by Chiphell, should give you most of the details you need. NVIDIA will finally be moving to the new and impressive Cortex-A15 platform for the Tegra 4, keeping four cores under the hood, and adding 72 graphics cores for some of the best mobile graphics to date. That's some serious Bruce Wayne power there Batman!
Samsung's recent Exynos 5250 powering the Nexus 10 is currently the only Cortex-A15 based mobile processor available, and it's only a dual-core. NVIDIA is looking to beat the competition by being first to the A15 with a quad-core set up. As usual NVIDIA will incorporate their 4-PLUS-1 technology with a 5th battery saving core as well. Qualcomm's been busy with their own quad-core S4 Pro Krait, but if these specs are any indication they'll have some serious NVIDIA competition next year.
Some of the specs that stood out aside from the A15 based 28nm processor fabrication is the USB 3.0, 4k resolution support, 2560×1440 encoding, dual-channel DDR3 RAM, and of course the last one being 72 GPU's (graphics processing units). The slide touts the Tegra 4 as being 6 times more powerful than the already impressive Tegra 3 we all know and love right now. NVIDIA's Tegra 3 was left behind for most smartphones due to not supporting 4G LTE, but this time around they'll be well positioned to take on the others in the processor game. We're expecting more details at CES in January, or Mobile World Congress in February. It will be an exciting first few months in 2013.
[via SlashGear]