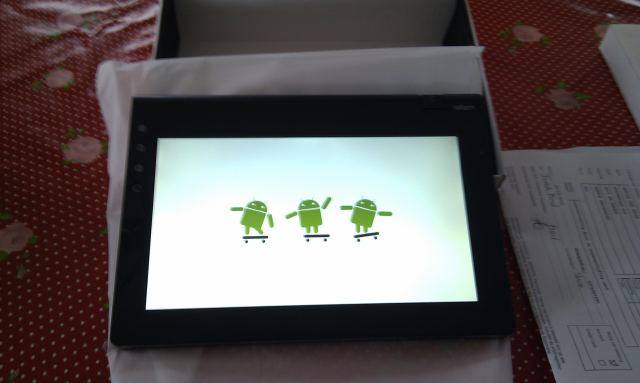 Behold! A couple of rather blurry images of an unboxing of what appears to be a real-deal Notion Ink Adam. Who has it? A Dutch fellow by the name of Van Gunst. His explanation for having early access to the device is that he's a developer and and the folks at Notion Ink have sent the device out to not only people like him, but to marketing folks as well. Take a look at his full explanation and more images as he's posted on his Twitter account in a gallery below.
If you'll take a look over at his blogspot blog, you'll see that Van Gunst has the following to say in response to those who would ask why he's got a Notion Ink Adam so very early compared to the rest of the people in the world who've got to wait another bunch of days:
EAP Adam
Reactie van Notion Ink:
The big draw of the EAP(other than 7 weeks early access) is you are assigned a programmer and UI design to work with to help get your app going on the adam. You can relate this to what Apple did when announcing the iphone. They invited developers to their campus for a couple of weeks and they worked with Apple directly to get the apps up to standards. Notion Ink is doing the same thing only without having 200 devs in their offices.
Also, they mentioned inclusion in marketing efforts. Maybe this is like apple does with their commercials and features apps doing amazing things.
I hope that clears it up that it is more than just early access to the device.
Do these images look real to you? If I had to guess, I'd say I'm 80% positive. Why? Because they've got em up on the site, videos are out, and it's definitely not THAT far away from the ship date – even if the device had to make its way to the Netherlands. His tweets are protected, but his YFrog account is not! — Thanks Samuel for the tip!