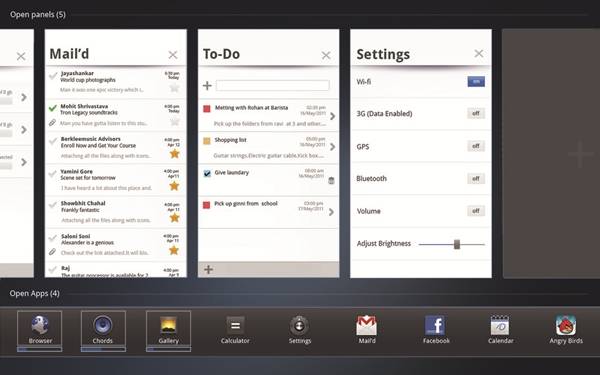 It appears that Notion Ink is definitely still pushing the Adam tablet regardless of their deep drop-off in coverage since the launch of the device. Incase you do not know, Notion Ink is basically a startup company that launched an Android tablet a few months ago, blogging their way through the process of creating it all the way from nearly the beginning of the process up to the day of pre-releases. They began blogging in April of 2009, and now that the tablet is out, the updates have come with much more space in between than ever before. This weekend came a post that noted feature updates coming to the tablet soon as well as an official release of a program dealing with the tablet in Bangalore.
What Rohan Shravan, the main dude in charge of making sure you know all about Notion Ink and their Adam tablet, is promising soon is a more synchronized, more clean, and more useful tablet update. One of these updates includes the Book Promise – this would have been out sooner, says Shravan, but their licensing agreements took longer than they expected. A similar situation went on back around CES 2010 when the device was supposed to be handed out to reviewers – this did not happen, said Shravan then, again because of licensing agreements being delayed and FCC regulations taking longer than expected.
Shravan launches into a written-word poetry session with the following:
Content. There is one thing which drives every human sub-consciously (assuming necessities like food and shelter are not in the way), and that is Recognition. It is something which forces us to test our limits, take risks, be creative and bold. Ever since computing was accelerated in world war II (when people realized the need of automation when it comes to simple calculation and decisions) our lives have been made easier. And today here we are, a generation with completely different reasons for using computers.
Eventually Shravan gets to noting that Notion Ink will be starting a project that ties together contributors from "colleges, clubs, various groups and, from diverse fields." This project, says Shravan, will create in the end a mature "front and back end" system that'll be a scalable model "optimized for the goal and comprehensive enough to cover a majority of creative domains." What does that mean? No idea. Maybe a social networking system that works off and online with coupons and whatnot. Here's perhaps hoping for the best!
[via Notion Ink]