We're still a few months away from the Mobile World Congress of 2017 to be held in Barcelona, but already one of the things people are looking forward to, or at least looking forward to talking about, is the upcoming new Android-powered Nokia phone. It will be a sort of comeback for the former smartphone giant, even though other companies are technically manufacturing and marketing it. It will still bear the Nokia trademark brand. The supposedly upcoming device was spotted on Geekbench and it looks like they are going for an entry level device for now.
The name listed on the Geekbench is Noxia Pixel, although of course we don't expect that to be the final name, given that Google just recently released the Pixel and Pixel XL smartphones. It has a Snapdragon 200 chipset, with a dual-core CPU which clocked in at 1.19GHz. It also has a 1GB RAM, has support for Quick Charge 3.0, and will come with Android 7.0.1 out of the box. So obviously, if the specs are accurate, this will be an entry-level device. Previous rumors said that the flagship device will have either a 5.2-inch or 5.5-inch display with a 1440 x 2560 resolution.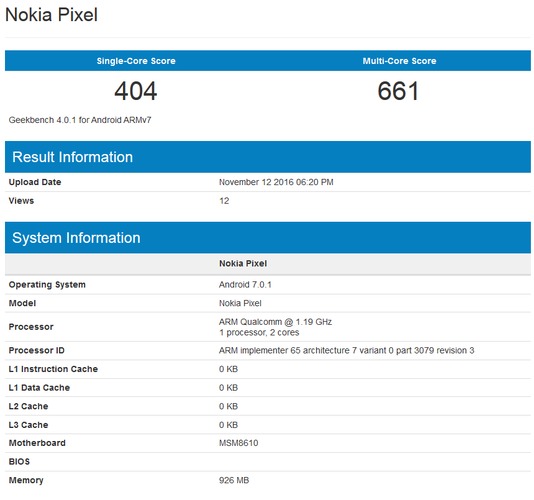 They have been unable to rejoin the smartphone market because it had a non-compete clause when Microsoft bought out Nokia Devices and Services back in 2014. But now that is no longer applicable since they have sold off their manufacturing facilities. Finnish company HMD Global will be developing, marketing, and selling the new phones while contract manufacturer Foxconn will be in charge of manufacturing.
We'll find out by end of February whether these things we've learned are true or if they will come up with a totally different new smartphone. But either way, there's no denying that Nokia's "comeback" will be met with a lot of scrutiny and attention.
VIA: Phone Arena