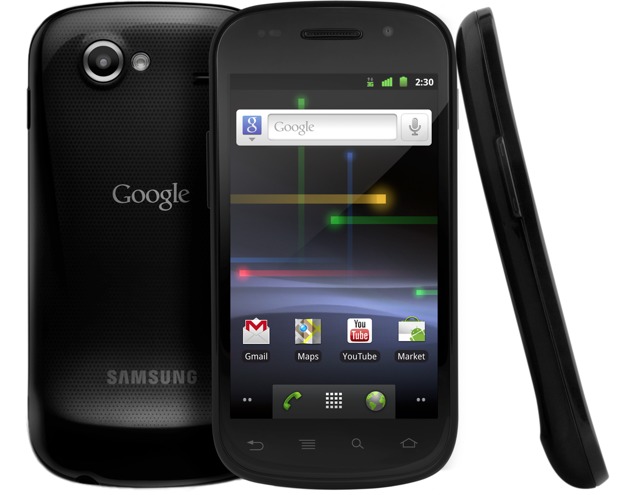 Correctly referring to it as "the reference phone for this generation of Android," our friends at TechCrunch have begun their review of the Google Nexus S, the next generation smartphone released with direct design input from the Google Android team. This phone was built on the bones of the Nexus One, and will be available to purchase at Best Buy in the USA through T-Mobile and at Carphone Warehouse in the U.K. – available on December 16th of this year (in ten days!) with pre-orders taken sooner. Significantly faster than Nexus One, slightly heavier than the Galaxy S, and slightly thicker, wider, taller, and with a bigger screen than iPhone 4.
The Nexus S is sized approximately 63mm x 123.9mm x 10.88mm, contains a 1GHz Hummingbird processor and it's screen is a large 4-inch Super AMOLED 480×800 touchscreen with lots of viewing angles, nice blacks, and TechCrunch notes, only second to the iPhone 4 in quality. The 1500 mAh Lithium Ion battery provides them 6+ hours of heavy use. There's a rear facing 5 megapixel camera with flash as well as a front facing VGA camera. Inside you'll also find a gyroscope, accelerometer, compass, proximity sensor, haptic feedback, and light sensor, with 16GB of internal flash memory and no additional expansion slot.
There's Wifi, GPS, and Bluetooth of course, and everything's seeming to work without a hitch. Nexus S has Near Field Communication (NFC) inside which will eventually allow you to replace you credit card with this phone, just with a bit of a bump against a sensor at the checkout. This technology isn't fully developed yet, so TechCrunch (and we) suggest you de-activate it to preserve battery time for now, but man! The future! Noise cancellation is also inside, making for some really clear conversations.
As far as software is concerned, you'll find none other than Android 2.3 Gingerbread, improving the user interface in "many small ways" including color changes and so forth. Text entry has been slightly improved, and Gingerbread supports the use of VoIP/SIP calling. The best part about Gingerbread on this Nexus S, TechCrunch says, is the fact that it's a clean install, with no third party software to get the house all dusty.
In wrap-up, TechCrunch notes that if you're an iPhone user, this phone isn't going to make you switch to Android. On the other hand, if you're either an Android user already or haven't decided on what smartphone you'd like to try first, they recommend this phone for shizzle.
Stay tuned in the coming days, as both SlashGear and Android Community will have their own hands-on time with the device.
[Via TechCrunch]