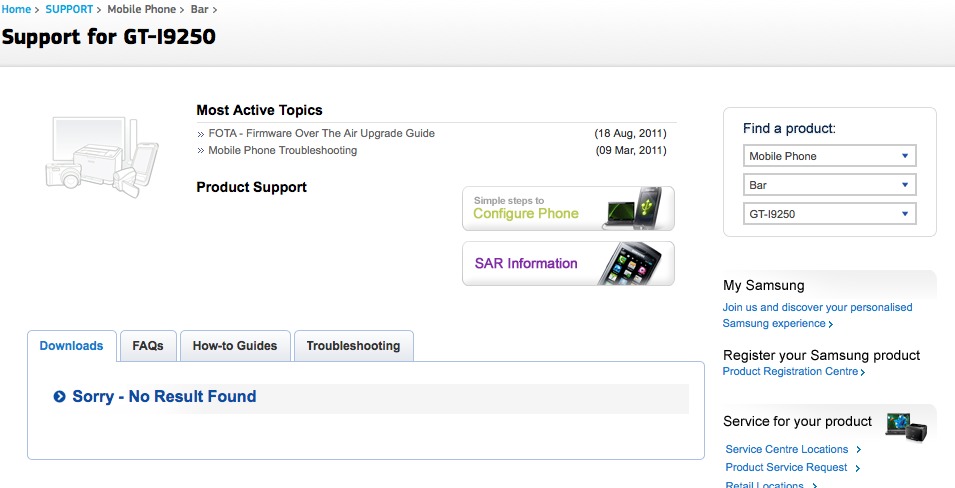 As I noted yesterday when we got word of a code hidden at Samsung's mobile webspace, the Nexus line is one that, when you get any new information on it at ALL, you've gotta report it. You NEED to report it because when it comes to Android, there's basically nothing more exciting for those who love purity than a Google-certified vanilla flavoring of a version of Android OS, and in this case, it means the launching of the next big platform, Android 4.0 Ice Cream Sandwich. What we've got today is a rather preliminary looking support page for the device aka GT-I9250, this being otherwise known as the Nexus Prime.
This device is being shown here in a broken-down placeholder of a page which, when it comes down to it, doesn't show us much of anything. On the other hand, there is a new set of supposed factoids this morning courtesy of a tipster speaking with GSM Arena. Take the following with a grain of salt, of course, but note that these are all possibilities:
"For one, our tipster says that the final name of the next Google flagship is Samsung Galaxy Nexus rather than Nexus Prime. It will have a 4.65″ screen of HD resolution – not 4.5″ WVGA. … screen is curved just like the Nexus S screen … device itself will be very thin – 8.8mm – and have a metal chassis … the launch date – at the end of October (right on the Ice Cream Sandwich schedule)" – tipster
Note again that for basically any other device we wouldn't be as apt to publish a third-hand unnamed source like this, but these specs ring enough bells that they're certainly inside the realm of reality. Keep your ears open and let's get this device out of the closet sooner than later!
ALSO as a bonus, here's our favorite well-played comment on the matter thus far:
"Galaxy Nexus is like naming your kid Ricky Bobby. Galaxy Prime would make more sense and sounds a lot better." – Kenshiro
This man speaks truth!
[via GSMArena]