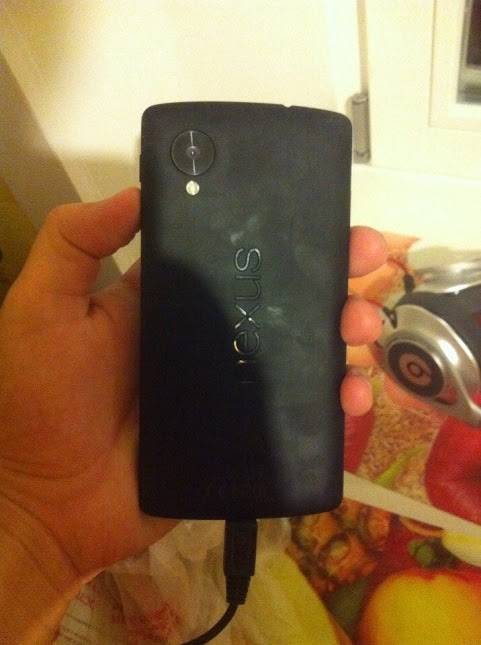 Earlier today we saw a Nexus 5 sighting in France. That one included some images and a 7 minute video showing off Android 4.4 Kit Kat. And as a follow-up to that, it looks like another series of Nexus 5 images have surfaced. This time coming out of Russia. With no announcement or release date having come from Google just yet, it does appear as if a European launch is in the works.
Anyway, this round of images comes by way of Kirill Karmazin and were shared on the Russian language VK message board. All said and done, given the amount of leaks that we have seen in recent history, there isn't all that much we are learning from this latest round. The images, of which there are four, offer a look at the front and back as well as one side.
In this case the side contains a power button and volume rocker. And with little in terms of surprise, there are not any hardware buttons on the front of the handset. Just like the Nexus 4, those were left as capacitive. Otherwise, this time around we are seeing that Nexus logo on the back of the handset.
We only bring up that last point because those earlier images (and video) coming out of France were showing a Nexus 5 with clean back. There was still the same camera lens and flash, but no big Nexus logo. To that point, that handset also had the "NOT FOR SALE" branding which would imply it was not the final hardware.
These leaks do seem to be increasing in frequency and for that, we are sort of expecting an official announcement to come sooner rather than later. While not yet official, the Nexus 5 is expected to arrive with a 5-inch 1080p display, Qualcomm Snapdragon 800 processor, 2GB of RAM and options for 16GB or 32GB of internal storage. Along with the storage there is expected to be options for a 2300 and 3000 mAh battery and the handset should arrive with an 8 megapixel rear-facing camera and Android 4.4 Kit Kat.