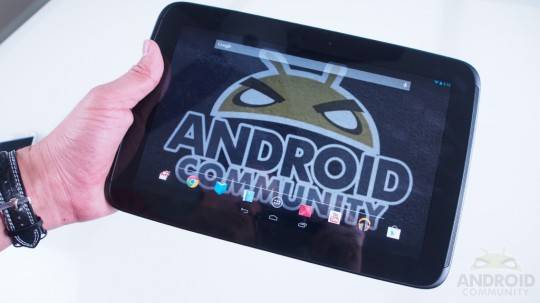 Both Samsung and ASUS have been rumored for the next-generation Nexus 10. Samsung did make the model currently available, however rumors seem to be pointing towards an ASUS branded Nexus 10 coming this year. Most of the chatter has been around the Nexus 5 and Android 4.4 Kit Kat, though we are hoping to see the Nexus 10 unveiled at the next Google event.
As many will remember, the Nexus 7 (2013) was already unveiled at an event earlier in the year. Anyway, all that aside, it looks like some Nexus 10 chatter has surfaced today. A visit to the Google Play Store reveals the 16GB model has dropped out-of-stock. That could suggest a new model is incoming, however the 32GB model remains available as it had been. Basically, this argument could go either way at this point.
The other bit of Nexus 10 talk has surfaced in the form of press render. This image was offered up by the folks at phoneArena and shows a tablet sitting in portrait mode. The render shows a tablet that appears to have a thin bezel and front-facing camera. The interesting portion here is the portrait mode though, as previous models of the Nexus 10 have been landscape oriented.
Granted, a change from Samsung to ASUS could account for that — different company, different aspect. Otherwise, while the image appears to be real enough, at least in terms of leaked press renders, there is one bit we can see missing. The tablet does not have the Google Search widget sitting up towards the top. Aside from that, the image does have the time and WiFi icon in the upper right as well as icons that match what we see on the official Nexus 7 images sitting in the dock.
Aside from what we are seeing with this, like we mentioned earlier, the Nexus 10 chatter has been light up until now. The tablet is expected to retain the 10.1-inch 2560 x 1600 display and some leaks have suggested a Snapdragon 800 processor while others have suggested a Tegra 4 processor.
That all aside, while we are looking forward to the next-generation Nexus 10, the older model remains available — at least in 32GB form. The tablet can still be grabbed from the Play Store for $499 and woot! is currently offering a deal on refurb models for $329.99.